Kidderminster Harriers: Chairman plans to go one better next year
By Ged Scott
BBC Midlands Sport
Last updated on .From the section Football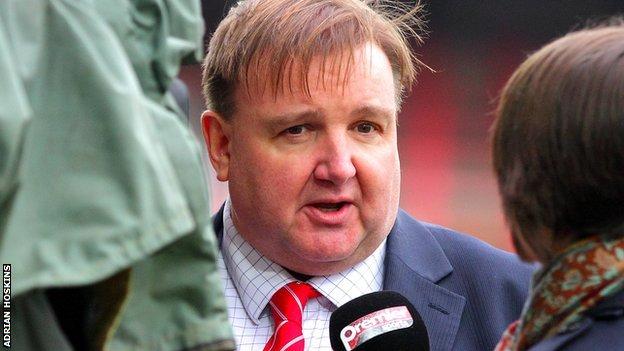 Kidderminster chairman Mark Serrell says they can get over their play-off defeat by going one better next year.
For the ninth time in 11 seasons since promotion to enter the Football League was raised to two clubs, the side finishing second missed out.
But Serrell told BBC Sport: "Over two legs Wrexham deserved it. We'll come back fighting.
"It just means that next year we have to make sure we are the best team - and not the second best."
After twice finishing sixth in successive years in manager Steve Burr's first two full seasons at the helm, at a time when the play-offs must have seemed like an attractive proposition at Aggborough, Harriers went to the other extreme of the emotional-heartache scale this time round.
The 5-2 two-leg play-off semi-final defeat by Wrexham was overloaded with more than their fair share of ill fortune - especially coming after the memorable run that saw the Harriers recover from their terrible start to lose just four times in 41 league matches.
"It's cruel," admits Serrell. "But, while it's exciting for fans and exciting for the neutrals, the rules are there and we have to abide by them.
"I feel for the people of Kidderminster who have supported us, I feel for the players and I certainly feel for Steve Burr but I'm sure we'll regroup and come back stronger.
"We will be planning to try to win the league."
The Harriers chairman remains adamant that the club are still not going to push the boat out in headlong pursuit of League football.
Having been through similar difficulties in the recent past, Serrell only has to look just beyond the Worcestershire border to cash-strapped Blue Square Bet Premier neighbours Hereford to be reminded of the dangers of not staying within budget.
"We were in the same situation just over two years ago," he told BBC Hereford & Worcester. "But we wish them all the best - I'm sure David Keyte will turn it round for them."
But, as long as the Harriers can hang onto the highly-rated Burr, the money they have banked from increased attendances - plus the £300,000 record sale of Jamille Matt to Fleetwood in January - will be of great benefit.
"Having two full houses at the end of the season was something we hadn't budgeted for, which has had a positive effect on our cash flow," added Serrell. "Jamille Matt leaving in January also helped us.
"We now have to take time out and decide which way we want to go.
"I can't see it causing any major problems for next season. Kidderminster Harriers have never had the biggest budget.
"There are sides in our league who pay a lot more money. And, yes, we want quality players, but Steve Burr has proved over the last three years that it's not all about money, with a budget that's only just about in the top 10 in this league."