Hearts 'trying to trade normally' amid administration rumours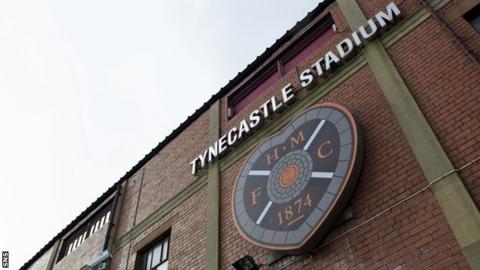 Hearts have responded to media speculation about insolvency by insisting the club are doing everything they can to "trade normally".
Ukio Bankas, which Hearts owe £15m, faces a bankruptcy hearing on Thursday.
"The club has been made aware of rumours concerning the possibility of administration," said a spokesperson.
"The club is completely up to date with player salaries and taxes and the club continues to head towards operational self-sustainability."
Hearts are about £25m in debt, with £15m of that secured by Tynecastle Stadium and now controlled by the administrators of Ukio Bankas.
The Lithuanian bank was placed in temporary administration earlier this year with liabilities close to £400m and all its branches have now closed.
Ukio Bankas' parent company is UBIG, the investment company controlled by Hearts owner Valdimir Romanov.
In late February, UBIG's entire board resigned, but Romanov remains the major shareholder in the company, which Hearts also owe £10m.
Should the court declare Ukio Bankas bankrupt, it will have serious repercussions for Hearts.
However, the club say in their website statement that operating costs have been reduced as they have focussed on increasing revenues and did not need assistance from its parent company.
"It should be noted that Hearts has not required or received additional funding from UBIG or Ukio Bankas in over a year and is servicing its existing debt," added the spokesperson.
"The club's health and viability continues to be dependent on successful player identification, development and trading, careful cost control and building revenues.
"While the general economic and Scottish football marketplace conditions remain challenging, Hearts is focused on meeting its requirements as a business and a football club."
Newspaper reports had suggested Hearts could be relegated due to financial problems.
Scottish Premier League rules dictate that any club that enters administration will be subject to a points deduction and, for Hearts, such a scenario would put them bottom of the division as things stand.