Luis Suarez: Inside the mind of Liverpool's Uruguayan striker
Last updated on .From the section Football500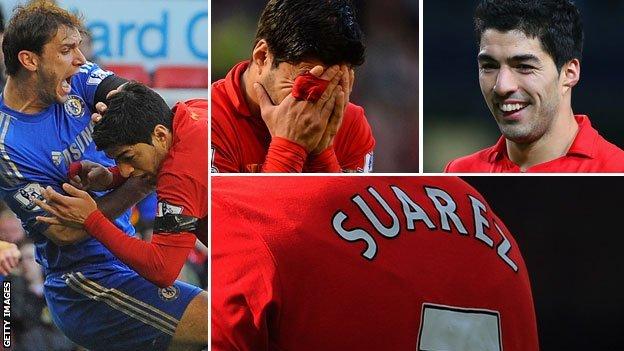 "When you understand Luis's background and where he comes from, then you can understand his determination."
Getting inside the mind of Luis Suarez, 26, appears a difficult task. His career treads the thin line between footballing brilliance and flawed genius, but a close friend and former Ajax colleague believes his tough upbringing is a good place to start.
Herman Pinkster was a member of Ajax's backroom staff when Suarez was banned for seven games after biting PSV Eindhoven midfielder Otman Bakkal in 2010. This was four months after the Uruguayan's deliberate handball against Ghana helped earn his country a place in the World Cup semi-final.
Now, with the Suarez debate very much back at the forefront after the Liverpool striker received a 10-match ban for biting Chelsea's Branislav Ivanovic, Pinkster believes his win-at-all-costs mentality can be traced all the way back to his childhood in Uruguay.
Born in the Uruguayan city of Salto on 24 January 1987 and raised in Montevideo, Suarez once had to reject the chance to attend a Uruguay youth team training camp because he couldn't afford a pair of boots. Money was tight as the player fought to succeed.
"When you have such a determination to win games and you are such a warrior from the nature inside, it is very hard to change it," said Pinkster.
"We really had to adapt, we had never had a player like that, that was so determined to win games, to focus like a soldier in a war.
"When he regrets something he is really sorry, but when he has the full commitment that he is 400% right, he never will regret things."
The word 'winner' is a common characteristic used to describe Suarez by the people who have seen his rise from kicking around on the streets of Montevideo to signing for Liverpool for £22.8m in January 2011.
His ability has rarely been questioned, scoring 111 goals in 159 appearances for Ajax and a regular for Uruguay, but his temperament has been brought into doubt a number of times along the way.
"He is a kind person. He is Dr Jekyll outside the pitch and sometimes Mr Hyde on the pitch," said Tom Egbers, the presenter of Netherlands's version of Match of the Day.
"He behaves like an animal at times. He can be terrible on the pitch, he can do terrible things. Swearing, kicking, diving... all the tricks. He does not mean to harm anyone, to injure someone.
"He just wants his opponent out of the way by any means. He is street smart. It is obvious he has not had his education from Eton. He is from Montevideo, Uruguay. Everything is permitted in his view to win a game.
"Something in his brain happens - (after he bit Bakkal) he genuinely apologised to the player and humbly accepted the punishment."
Just in his Premier League career alone, Suarez's list of misdemeanours include racially abusing Patrice Evra,admitting diving and being pilloried for a handball goal against Mansfield.
His dark side can be traced as far back as to when he was sent off as a 15-year-old for head butting a referee when a youth player for Uruguayan side Nacional, and was seen again when he saw red for dissent on his international debut against Colombia in February 2007.
"He is the type of player that once inside the box he is capable of anything to score a goal, to get the ball from an opponent. Obviously this kind of thing shouldn't happen, cannot happen. It's happened to him," said his former Groningen team-mate Hugo Alves.
"He does anything to win. He is a winner. And because of his way of thinking, if he is in the heat of the moment, full of emotion, he makes these kind of mistakes. In the middle of an emotional game, he can vent it in the wrong way."
One of Suarez's former youth coaches, Julian Moreno, said that winning mentality was evident throughout his time at Nacional: "He never liked losing. He wanted to win everything, that's something he always showed."
Suarez signed for Dutch top-flight side Groningen from Nacional in 2005. The club's then-technical director Henk Veldmarte said it took just 15 minutes to spot his potential in a trial match.
Arriving in Holland as a 19-year-old without any grasp of the language, it was initially a struggle for the striker but there was a sense of unshakeable confidence in his own ability.
Brazilian Alves adds: "Luis is a kind of a person that when he was in Groningen it seemed like he was in Uruguay in his native neighbourhood. I had lots of difficulties when I arrived here. I thought… What am I gonna say? What am I gonna eat? Not Luis.
"Without speaking a single word of English or Dutch he goes to the market and buys exactly what he wants. He can communicate with people without knowing one word of their language. Once he got a car, without knowing how to drive.
"He said 'I want the car now, I can learn how to drive later on.' Obviously he had a driving licence, he just had to change it for a Dutch one. But that shows how easy it was for him to get used to things.
"He had a good relationship with his neighbours, with people who lived close to him. He talked to everybody. He talks to the club doorman in the same way he talks to the chairman. He does not make any distinction."
Such single-mindedness has been evident throughout Suarez's career. He moved to Europe to be closer to his girlfriend (now his wife), attempted to force through a move to Ajax in 2007, when he even took former club Groningen to court, and took his one-month-old daughter on the pitch at the Amsterdam Arena, despite being told not to.
Suarez has always done things his own way and, no matter what criticisms have been thrown his way, one thing almost everyone is in agreement with is his talent as a footballer.
"He is one of the top three most spectacular players Ajax have had in the last 100 years - there is Cruyff, van Basten and Suarez," said Egbers.