Sunderland are predictable despite Paolo Di Canio's passion
Last updated on .From the section Football

In his regular BBC Sport column on football tactics, Robbie Savage takes a look at Sunderland under Paolo Di Canio.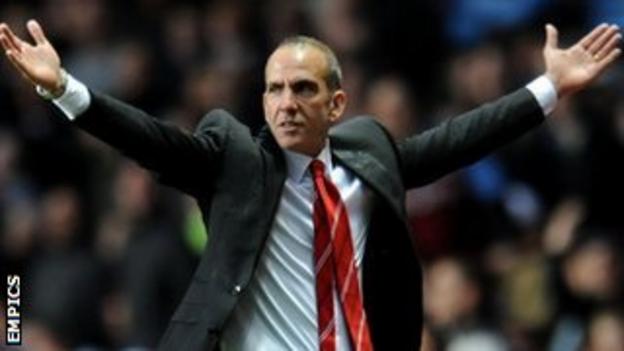 His passion has lifted the entire club, but what are his tactics when you look beyond his knee slides and animated touchline antics?
Ahead of another vital weekend in the battle for survival at the bottom of the Premier League, Sunderland need to regroup after Monday's thrashing by fellow strugglers Aston Villa.
Di Canio is definitely the man to get them motivated again before they face Stoke, but the Potters probably already know what tactics they can expect to face.
What is the Di Canio effect?
I was at Villa Park on Monday and, first things first, you have give credit to Villa for an outstanding performance. They looked nothing like relegation candidates and were a completely different team to the one I watched lose to Liverpool at the end of March.
But as far as Sunderland are concerned, we saw how important energy is to their game plan under Di Canio, and also some of their limitations as a team.
They stayed deep to try to stop Villa's front three from getting behind their defenders.
Di Canio never stopped shouting at his players to go and close the ball down - even Black Cats striker Danny Graham was doing it as soon as Villa came past the halfway line.
You clearly have to be very fit to be a Sunderland player under Di Canio, and that same high-tempo, pressing approach helped them beat Newcastle and Everton earlier in April.
It did not work against Villa, but why?
Christian Benteke was a constant problem for them but the biggest issue was that they did not have the same effectiveness with their tackling.
In Di Canio's first three games in charge - against Everton, Newcastle and Chelsea - their success rate averaged more than 85%. Against Villa, it dropped to below 65%.
The fact the game was beyond them by the end will have played its part, but they did not show the desire or defensive bite I expected to see under Di Canio.
Black Cats look to break quickly
When you compare Sunderland's attacking statistics under Di Canio to those under O'Neill, then it is O'Neill who fares better.
In terms of average possession, number of passes, pass completion, number of crosses, cross completion and shots per game, O'Neill's numbers are higher.
Sunderland 2012-13

Under O'Neill

Under Di Canio

Games

31

4

Average possession

44%

39%

Average passes per game

360

283

Pass completion

77%

74%

Average crosses per game

24

15

Cross completion

18%

14%

Average shots per game*

8

7

% Shots on target

46%

43%

% Goals to shots

13%

21%

Goals per game

1.06

1.50

Tackles won

76%

82%

* Excluding blocked shots

Stats provided by Opta
The amount of possession Sunderland have has actually decreased dramatically under Di Canio but it has not made any difference to their results.
In fact, out of his four games in charge, they had the most possession against Villa and look what good it did them.
The reason possession does not matter to Di Canio is because he has decided that he can get the best out of his squad by playing on the counter-attack.
They are making fewer passes than they did under O'Neill, but breaking quicker. That also means moves often break down more quickly too, but for me he does not really have much choice but to play that way.
Sunderland do not have a player in central midfield who can dictate play or link defence and attack. Craig Gardner is the nearest thing they have to that but his game is more about hustle and bustle.
That means Sunderland struggle to break down teams when the opposition have time to organise themselves defensively.
Sunderland attacks end in cul-de-sacs
Di Canio uses a 4-4-2 with Adam Johnson on the right wing and Seb Larsson on the left so they can cut inside and deliver inswinging crosses.
They are both dangerous players, and the full-backs behind them, Phil Bardsley and Danny Rose, also play a vital attacking role in overlapping outside them or cutting inside.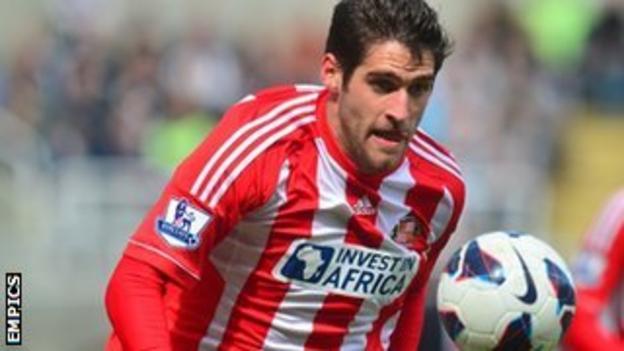 But unfortunately for Sunderland, when the ball was played into the Villa box, Danny Graham was just not on the move quickly or often enough to get on the end of it
It showed again how badly they miss their main striker Steven Fletcher, who is out injured for the rest of the season.
At the other end, Benteke was showing what a difference it can make to have an effective centre-forward leading your line. Sunderland just do not have that at present.
Staying up despite Sessegnon suspension?
There was more bad news for Di Canio's attacking options when Sunderland failed in their attempt to overturn the red card that Stephane Sessegnon was shown against Villa. He is suspended for the rest of the season.
Sessegnon has been one of their stars during an upturn in results under Di Canio, and has been outstanding while playing in the hole behind the main striker. Under O'Neill, he operated a lot more towards the right.
Sunderland are going to have to cope without him but I still think they will survive. Di Canio may lack quality in some areas of his squad but he has already shown us he makes up for it with his motivation.
They need one win from their last three games and I would back them 100% to get it.
The picture at the bottom of the table is an interesting one. Newcastle and Norwich are both back in the frame now.
Villa's performance and the boost in confidence they will have on the back of it will make a huge difference to their hopes.
It is factors like that which come into play at this stage of the season and despite suffering such a heavy defeat, I do not see Sunderland suffering any sort of hangover with Di Canio in charge.