Zingarevich insists Reading are in good financial shape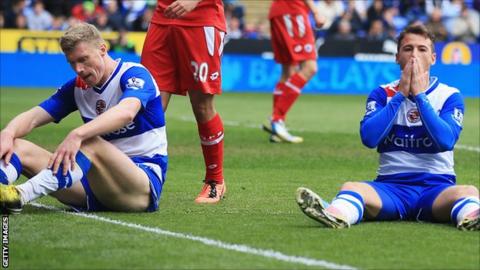 Reading owner Anton Zingarevich has insisted that the club are in good financial shape despite dropping out of the Premier League.
The Royals' relegation was confirmed on Sunday but Zingarevich says he will give manager Nigel Adkins money for new signings to bounce straight back up.
"We are in a good place financially," Zingarevich told BBC Radio Berkshire.
"The club was run in a prudent way before [he took charge] and that is how it will be run in the future."
Promotion to the top flight earned the Royals an estimated £90m, with half that money coming from television-related revenue.
Reading will now miss out on the new £5bn global television deal, which would have earned them upwards of £100m, but will still receive in excess of £60m over a four-year period in parachute payments.
"Obviously the new TV deal for the Premier League would have helped, but we will come back in 12 months," said Zingarevich.
"I don't want to think about what would have happened. We are focused on what we want to achieve in the next 12 months."
In total, it is expected relegation will cost the Royals around £60m in television revenue, gate receipts and commercial revenue, but Sheffield Hallam University sports finance expert Rob Wilson believes the club have a bright future.
"I think to be fair to Reading, they spent very wisely," Wilson told BBC Sport.
"They didn't get too ambitious. They spent some money but perhaps would have liked to have spent more.
"But you have to remember Premier League wages, salaries and transfer fees have been inflated for a number of years and irrespective of the fact they have been relegated, they've done themselves justice financially.
"They've followed the Blackpool model, which was get promoted, clear any outstanding debt, consolidate for the future and really try and push on for next year to get promoted at the first attempt.
"We hear good reports about how they've conducted their business with players, in terms of wages and salaries.
"I anticipate the fall from the Premier League won't be anywhere near as severe as what it will be for teams like QPR because of the contracts they have signed players on.
"Reading have done it properly, so while it is a gloomy day, the future is certainly bright for the football club - certainly from a financial operation anyway."
Despite the financial boost received following their promotion last season, the club were relatively frugal in the summer and Zingarevich says the lessons have been learned.
In total they spent less than £10m in attempting to cement their top-flight status, with the £3.4m purchase of Adrian Mariappa their biggest transfer fee of the summer.
"Generally it's been a learning experience for many at the club," said Zingarevich.
"Yes, we've been relegated, but now we understand what we have to do to stay here [the Premier League] for a long time.
"We are going to bounce back and regroup and hopefully come back up next year.
"We need to give the manager all the tools he needs. We will sit down and discuss specifics and understand what his wishes are in terms of the current group.
"For me it's not the amount that needs to be spent but how you spend the money. We need to go out and sign the right players for us. It is like any investment."
Zingarevich, who sacked manager Brian McDermott in January, also says new boss Adkins has his total support despite the fact he is still searching for his first victory.
"I don't really care who supports who individually," he said. "It is about Reading Football Club.
"We are all supporting the club and that is all we should think of. We have a new manager who I have total faith in and most people can see what we are trying to do on the pitch."