Tottenham's Gareth Bale a worthy winner of double PFA award

By Phil McNulty
Chief football writer
Last updated on .From the section Football357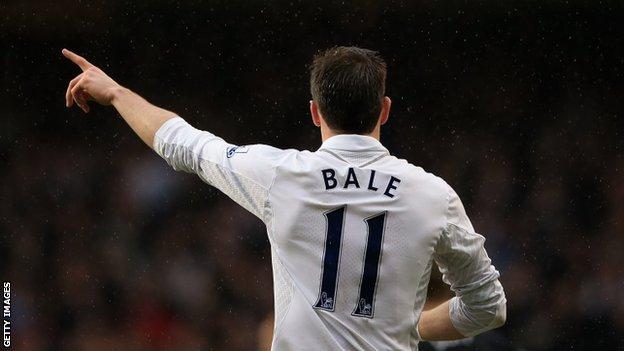 Gareth Bale's status among his peers and remarkable consistency for Tottenham Hotspur has no clearer illustration than his selection as PFA Player of the Year for the second time in three seasons.
At 23, Cardiff-born Bale has elevated himself to the ranks of the world's elite group of players after another outstanding campaign that has made him one of the most coveted individuals in the game.
It takes a special talent to win the vote of his fellow players ahead of Manchester United's Robin van Persie - last year's winner and the striker who has made the decisive contribution in taking the Premier League title to Old Trafford for the 20th time. Bale is that player.
Bale's achievement is further emphasised by the illustrious company he now keeps as one of the few who have claimed the award twice, joining players such as Mark Hughes, Thierry Henry, Cristiano Ronaldo and Alan Shearer.
He is also only the third player to win the Player of the Year and Young Player of the Year award in the same season, after Andy Gray and Ronaldo.
Powerful, athletic, explosive, and a scorer of 24 goals in 40 games in all competitions this season, this outstanding return has ensured Spurs still have hopes of reaching next season's Champions League as the season enters its final phase.
Bale's significance to Spurs is obvious on an almost weekly basis but he is also making his mark with Wales, a talisman for manager Chris Coleman's team and a character seemingly unburdened by the huge weight of his country's expectations - as he proved with the two late goals that won the World Cup qualifier against Scotland in Cardiff last October.
The next prize on Bale's list will be attempting to secure a place in the top four for Spurs and a return to the Champions League stage he commanded with such brilliance in 2010-11, most notably with stellar performances home and away against Inter Milan.
Spurs fans will hope Bale can return there next season and he will be the key element in their attempt to overtake Arsenal, who are two points ahead in the Premier League but have played a game more.
Many feel this will provide the key to Bale's immediate future at White Hart Lane, with Real Madrid positioning themselves to lead the bidding should Spurs not reach the Champions League.
This should not be taken for granted, however. Bale is a grounded individual; those close to him speaking of his modesty and his great satisfaction with life at White Hart Lane. He has time on his side and need not be in a rush to leave the Premier League.
From a business perspective, Spurs chairman Daniel Levy drives as hard a bargain as anyone in football. Should he even decide to put a price on Bale's head, potential suitors will be well aware he will not sell for a penny less than his chosen value.
Bale seems happy at Spurs and in London and content to conduct his career without indulging himself in the spotlight.
At the height of his acclaim in Spurs' Champions League campaign, then manager Harry Redknapp advised him to take a break out of the country to recharge his batteries: "He did. He went to Cardiff to see his mum. That's him all over."
Redknapp also said earlier this season that Bale was a player who could grace any team in the world - and most teams in the world would be happy to take him.
It is not a given, though, that he will simply decide to quit Spurs should they fail to finish in the top four. It will encourage buyers but this is a character who has taken a measured approach to his career and has certainly not suggested he would agitate to leave if this was the case.
Bale has also formed a strong bond with Spurs manager Andre Villas-Boas - recall how the pair embraced after another magnificent late winner at West Ham this season?
Villas-Boas insists Bale will go nowhere if Spurs reach the Champions League but there is also confidence he will be persuaded to stay even if they miss out, helped by the ambitions the White Hart Lane hierarchy have for the club.
"The club is committed to keeping the best assets," Villas-Boas said before Saturday's draw at Wigan Athletic. "That's the only way that we can ensure that we are in the top four every year.
"Gareth is part of that project, bearing in mind that he has been amazing this season. Hopefully, we can develop him to a greater extent.
"We get the buzz from working with great players and Gareth has developed into a great player, so I couldn't be happier."
The timing of the PFA votes, well before the end of the season, is often the catalyst for debate and Van Persie's supporters would demand his selection on the back of his title-winning contribution at United following his £24m summer move from Arsenal.
For sheer footballing brilliance, as well as very strong public lobbying from manager Brendan Rodgers and others at Liverpool, Luis Suarez was another live contender.
Suarez, however, can rarely be judged in a purely footballing context and it would have been a major embarrassment for the PFA had he come out on top in the voting just a week after biting Chelsea's Branislav Ivanovic, for which he subsequently received a 10-match ban.
Bale has had to deal with brickbats of his own this season, with yellow cards and plenty of criticism amid allegations of diving, but his sheer consistency and quality on the pitch makes him a worth recipient of the PFA's honour.