Sean O'Driscoll: Bristol City head coach outlines League One plans
Last updated on .From the section Football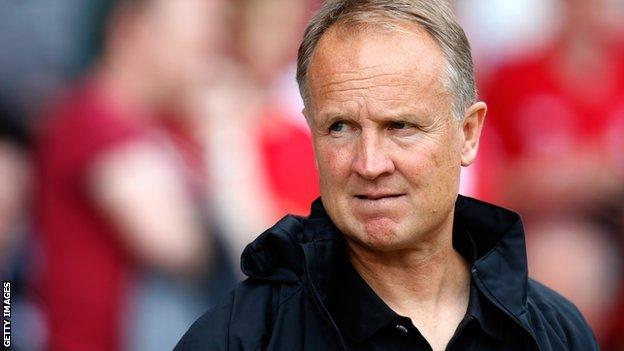 Head coach Sean O'Driscoll has said Bristol City will look like a "different" club next term but does not expect to have to sell players.
City's relegation from the Championship has been confirmed and they will have to reduce their budget for League One.
But O'Driscoll says with the backing of billionaire owner Stephen Lansdown they are not forced to recoup money.
"We're in a unique position in that we don't have to sell anybody." O'Driscoll told BBC Radio Bristol.
"In a lot of football clubs there's a financial implication, but we have an owner who will make a case for selling [players] only at the right time.
"I'm not looking to shift six or seven players. We know we'll get offered for one or two and we'll have a competitive squad in League One.
"With the amount of contracted players that we have, it's more of a mindset we've got to change rather than getting rid of players."
Bristol City, who will return to the third tier after six years away, will have to adhere to Financial Fair Play regulations next season, which state League One clubs must limit their wage and fee bill to 60% of their turnover.
Last year, the club posted a record loss of £14.4m and had a wage bill of £18m.
And while they have a plan in place to reduce wages, the financial restrictions may have an impact on the number of new players coming in.
"The vast majority of players would have all taken a 50% drop in their wages through the relegation clauses in their contracts. Therefore we'll shrink our wage bill by 50%," O'Driscoll explained.
"That would, in some senses, put us under the wage cap. The anomaly will be if every contracted player stays then that will take up 88% of the budget for next season.
"That doesn't give you a lot of leeway in terms of bringing in players. It's something we've got to get our head around."
O'Driscoll was appointed as head coach following the sacking of Derek McInnes in January, with the club bottom of the table.
Five wins and three draws in 17 games was not enough to stave off relegation, which was confirmed following their defeat by Birmingham, but O'Driscoll insists they will return to the second tier.
"I'm not here to look at the past but you've got to reflect on what's happened and try and move forward," said the former Bournemouth and Doncaster boss, who started the season in charge of Nottingham Forest.
"This club will be a Championship club for definite. But it will be a different type of club and it might not happen straight away.
"Everyone will be geared for us to get straight back up but it will be a different type of Bristol City."
Listen again to O'Driscoll's phone in with Geoff Twentyman on BBC Radio Bristol and BBC Somerset via the BBC iPlayer - available for the next seven days.