Luis Suarez: Panel criticises Liverpool striker's reaction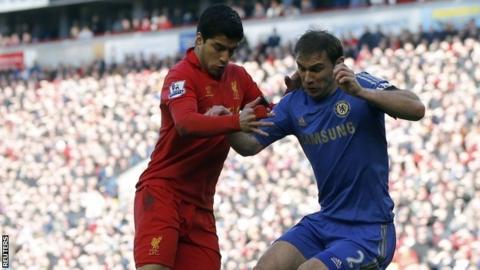 Luis Suarez did not appreciate "the seriousness" of biting Branislav Ivanovic when he argued against a long ban, says a Football Association panel.
The Liverpool striker accepted a three-game violent conduct ban, but claimed the incident did not deserve more.
He was eventually banned for 10 games but
The FA said the ban should send out a "strong message that such deplorable behaviours do not have a place in football".
The FA's 21-page rationale, published by the three-man independent panel appointed to rule on the case, noted that Suarez's tussle with Chelsea defender Ivanovic in the 2-2 draw at Anfield on Sunday had been "seen by millions of viewers both domestic and overseas, as well as generating a great deal of interest and debate amongst countless number of people".
It continued: "Whilst we accepted that Mr Suarez's reputation had been impacted, these unsavoury pictures would have given a bad image of English football domestically and across the world alike.
"All players in the higher level of the game are seen as role models, have the duty to act professionally and responsibly, and set the highest example of good conduct to the rest of the game - especially to young players."
Suarez was was banned for seven games in November 2010 while playing for Dutch side Ajax for a similar incident in which he bit PSV Eindhoven midfielder Otman Bakkal's shoulder during a match.
During his time at Liverpool, the Uruguayan has received bans of eight matches for racially abusing Manchester United defender Patrice Evra and
However, the panel appointed by the FA to decide on Suarez's case said that it considered his latest indiscretion in isolation.
It did, however, say it referred to two incidents from earlier this year where the FA felt that, as in the Suarez case, a three-match ban was insufficient.
Those incidents concerned Chelsea's Eden Hazard, who kicked a ball boy during a game against Swansea in January, and Brighton's Ashley Barnes, who tripped a referee during a match against Bolton in March.
In those cases, the panel ruled that Hazard's punishment was sufficient but decided to double the penalty handed out to Barnes from three games to six.
After considering various factors including Suarez's intent to injure Ivanovic, the need to deter possible future incidents and the damage to English football's image, the panel decided that "this offence is significantly more serious than that of Ashley Barnes' and, accordingly, the punishment should be significantly higher".
Amongst its conclusions, the panel stated that "biting an opponent is alien to football and must remain so" and added: "It is completely unacceptable and such truly disgraceful behaviour."
Liverpool were "bitterly disappointed" by the length of the ban with rather than the actual offence.
However the club left the decision on whether to appeal up to the Uruguay international, and will now miss the last four games of this season and the first six of next.