Gareth Ainsworth 'tearful' before Wycombe Wanderers retirement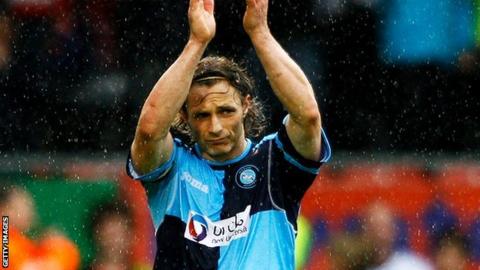 Wycombe Wanderers boss Gareth Ainsworth has said his was "unbelievably hard".
The 39-year-old midfielder will make his 600th and last career appearance against Port Vale on Saturday.
"I've been choked up a lot. When I announced it I was filling up. I had tears in my eyes and a lump in my throat," he told BBC Sport.
"You'll never replace playing. There's nothing better than scoring - the fans sing your name. You feel so alive."
He added: "To leave those days behind is unbelievably hard. Management will come a close second, but I'll miss those days believe me."
Ainsworth, currently player-manager at Adams Park, signed a two-year deal this week to continue solely as boss of the League Two club.
He will bring an end to a career that has taken in spells at every level from the Premier League to non-league for clubs including Preston, Cambridge United, Lincoln City, Port Vale, Wimbledon and Queens Park Rangers.
And on Saturday he is likely to select himself and bow out with a 600th professional appearance.
"The club's always bigger than me but I might try and have my little moment on Saturday. I don't think anyone will begrudge me that," he said.
Wycombe has become something of a breeding ground for up-and-coming managers, with Martin O'Neill, John Gregory and Paul Lambert all going on to ply their trade in the Premier League.
Ainsworth has made an impressive start to his Chairboys tenure, taking them from bottom of the table in November to mid-table security, and could well follow in the footsteps of his predecessors.
"That will be in the hands of the owners of this club and other clubs," he said.
"If we're doing fantastic and I attract attention, that's great for me and great for Wycombe. If I'm doing a great job at Wycombe I'm happy.
"All I want is the club to get up the leagues, get back to the years of League One football and FA Cup runs and to bring the glory years back.
"It's not going to happen overnight but we're moving in the right direction."