Aldershot Town have accepted failure, says Andy Scott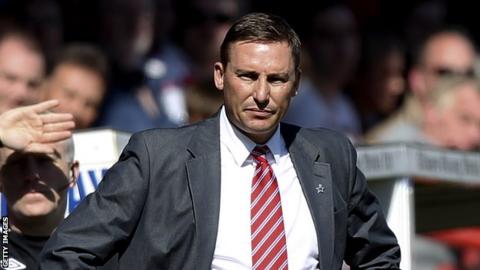 With Aldershot Town on the brink of relegation from League Two, manager Andy Scott has criticised the attitude of some players at the club.
The Shots sit three points from safety with just one game remaining.
He told BBC Surrey: "I want people in my dressing room who set high standards and expect other people to reach them.
"We have accepted failure at this football club this season. It's a horrible thing to admit that we have got players who have let people down."
In order to stay in the Football League the Hampshire side have to win at Rotherham on Saturday.
Even then the Shots need AFC Wimbledon to fail to win and Barnet to lose, and hope for a six-goal swing in goal difference in their favour against the Bees.
This week Aldershot goalkeeper Jamie Young questioned the commitment of some of his teammates and Scott is adamant that their approach and mentality must change over the summer, regardless of which division they are in.
"There are players who have got away with things and players who have openly admitted they haven't done enough, worked hard enough or improved enough," Scott added.
"It is scandalous to be able to admit that and scandalous that you know that and you haven't done enough about it.
"We want proper people who work their socks off, give their best, try their best, want to improve and demand that of others. Successful sides have a group of players that demand it of everyone around them.
"You can't be let down by someone that is not doing enough. Unfortunately there are people in this group that have let down others and have accepted it.
"It can't happen and, ultimately, the ones who do get let down are the fans and the people who can't influence what we do on the pitch.
"I can assure people who will come to this club next year that there won't be anyone in this group who will be allowed to let anyone down without there being severe consequences."
The Shots kept alive their survival chances by beating Dagenham last Saturday and Scott is aware their hopes of staying up remain slim ahead of their trip to Rotherham.
"It's been tough but it is important we see the season out and do our best to win the game," he continued. "Mentally, you find out a lot about players after Saturday.
"Some are very angry and point the finger of blame at other people while others are relieved the pressure is off them.
"The mentality needs to change next year for certain. All we can do is try and win."
Scott was appointed as manager in February and says that the state of the squad he inherited from Dean Holdsworth has made his job harder.
"This will be our thirteenth game in charge," he said. "When you assess the whole time, there was clearly an issue with fitness and tempo of play that we have improved but you can only do so much in so little time.
"Not being able to bring in someone who can score goals is a problem. We have done our best but the players have not had the capability of performing week-in, week-out at the levels we want them to.
"That is because they don't have the base they should have. But that stems back to pre-season and the physical, technical and tactical work."