Luis Suarez: Liverpool striker's ban highlights past inconsistencies

By Ian Dennis
BBC Radio 5 live senior football reporter
Last updated on .From the section Football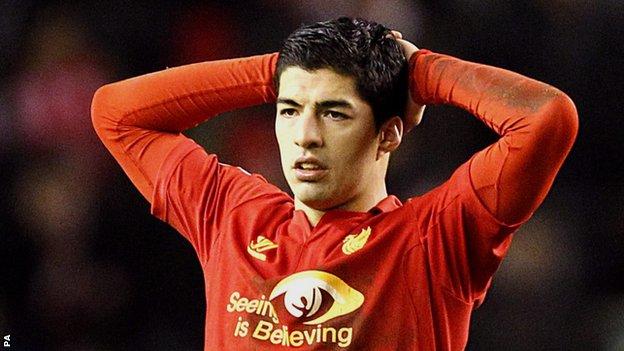 In handing Liverpool striker Luis Suarez a 10-match ban for biting Chelsea's Branislav Ivanovic, the Football Association has clearly sent out a strong signal - yet it has also highlighted its inconsistencies of the past when it comes to disciplinary issues.
Before anyone starts to make any comparisons, it may be wise to apply some caution and wait for the publication of the written reasons, which will provide clarification of the conclusions that the panel reached.
It is also worth considering that times change and rules change. The FA has reviewed its discriminatory measures and any future racist sanctions will be much stiffer than 12 months ago.
The FA may face criticism for a lack of consistency, but if this is an organisation which has a governance department in transition then it also serves as a warning that it is toughening up its act.
For instance, Jermain Defoe, who was accused of biting an opponent in 2006, escaped any further action because he was shown a yellow card at the time. Had that happened today, under "exceptional circumstances", the Tottenham striker would be charged.
So why is it 10 matches? Have Suarez's previous disciplinary problems counted against him? A lack of remorse from the Uruguayan when he disputed the FA's claim that a three-game suspension was clearly insufficient? This is his second biting offence in three years and such a shameless statement hardly shows a sign of contrition.
That is mere speculation and only after the written reasons are publicised will we be able to assess the full picture.
But even if Suarez has not learned his lessons from 2010 - when the-then Ajax player received a seven-match ban for biting PSV Eindhoven's Otman Bakkal - then Liverpool, as a football club, have. Following Sunday night's swift and unreserved apology from managing director Ian Ayre, they have decided to keep their counsel until they are in receipt of the written reasons.
Wednesday's statement was brief and reserved judgement, although they did express their "shock" and "disappointment" over the ban.
What happens next will ultimately rest on Suarez - after all, it is his punishment. The fact that he believed the mandatory three-match suspension would suffice creates the impression that an appeal could be on the cards over the additional seven matches.
Whatever the outcome, Suarez will miss the start of next season but if the 10-match ban remains in force then Liverpool will be without their star striker until the start of October.
It is an undoubted blow for the club to be without such a world-class talent, who is an integral part of Liverpool's plans, if they are to challenge for a a return to the top four. To miss the opening six fixtures would be a setback but last season Liverpool won five of the eight games during his enforced absence.
Of course, Suarez may feel so aggrieved he may consider his future lies away from England. But whatever his next step, the player needs to learn from his past.