Michael Higdon doubt over Motherwell future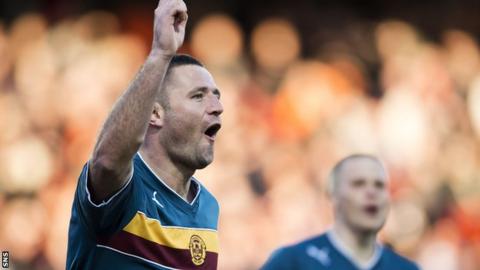 PFA Scotland player of the year nominee Michael Higdon is not sure if he will still be a Motherwell player at the start of next season.
The 29-year-old on Friday broke Willie Pettigrew's post-war scoring record for a season with the club.
"I'm not too sure yet," he said when asked if he would stay at Well. "I'm in the process of negotiating a deal.
"I've just got to leave my options open and see what's there at the end of the season."
But the Liverpudlian, who has scored 25 goals this term, is enjoying his football under manager Stuart McCall and unsure about a return to English football.
"I just like playing football," said the striker who first ventured north of the Border to join Falkirk after leaving Crewe Alexandra in 2007.
"If I go down south and don't play, that's not good."
Higdon's scoring exploits mean he is among the along with Hibernian striker Leigh Griffiths, Aberdeen forward Niall McGinn and Inverness Caledonian Thistle midfielder Andrew Shinnie.
The Motherwell striker was relieved to break Pettigrew's record in the .
"Everybody was talking about it and then, with the two goals on Friday, I surpassed it," he said.
"I'm obviously delighted as it's been there for 30 years and hopefully I can score a few more before the end of the season."
Higdon was not initially popular when he moved to Fir Park after leaving St Mirren in summer 2011, but he has won over the fans after what he regards as the best season of his career.
"I think it was just a minority at the start," he said. "I think, when you leave to join a new club, you want to get off on the right note and do well in your first few games and I didn't do that and it makes it hard for you.
"But you use your experience, keep going and keep plugging away, have faith in your ability and it's worked out well."
Asked what was the secret to his form and Motherwell's second place in the Scottish Premier League, Higdon replied: "Confidence, playing in a good team, having a manager who believes in you. Those ingredients make you want to play football.
"My goals ratio is greater than one in two and you can't complain about that.
"All in all, it's been an outstanding season. I think we're over-achieving in terms of budgets and the players deserve an enormous amount of credit."