Dundee United: Green shoots for the tangerine dreamers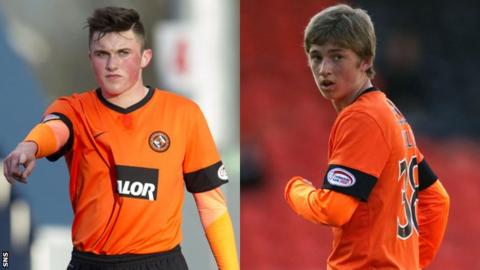 It would be easy to imagine the clouds of doom and gloom gathering in recent weeks to darken the tangerine glow normally emanating from Tannadice.
Dundee United have lost a Scottish Cup semi-final and, after only making the top six in the Scottish Premier League by the skin of their teeth, hopes of a late surge towards a Europa League qualifying spot have been halted by two straight defeats.
Meanwhile, chairman Stephen Thompson was in the losing camp as the SPL failed to back a league reconstruction plan and has since been rocked by the possibility of losing much-lauded striker Johnny Russell in a cut-price transfer.
With neighbours Dundee seemingly destined for relegation, money-spinning league derbies are also likely to absent from the bank balance next season unless one of their rivals suffers the kind of late-season financial implosion that consigned Rangers to the Third Division this term.
Yet there are green shoots of recovery emerging from the north side of the street.
The number of young players bursting on to the first-team scene under manager Jackie McNamara has led to midfielder Stuart Armstrong remarking that he feels like a veteran at the age of 21.
"He's got the view that, if you're good enough, you're old enough," said Armstrong of McNamara before highlighting the emergence of 16-year-old defender John Souttar and 17-year-old forward Ryan Gauld.
"We've got some great youth players coming through, especially the ones that have been given their chance recently, John Souttar and, I think, Ryan Gauld in particular is a fantastic technical player and can go all the way."
Those teenagers will be looking to follow the example of 23-year-old Russell, who has become the latest talent to have progressed from United's youth ranks to being linked with a big-money move. He was recently the subject of failed bids from Serie A outfit Catania.
"He's been so valuable for us this season with his goals and his link-up play," said Armstrong of the striker who had hit the net 20 times by the time a broken leg halted his season in February.
"Johnny is a great player and hopefully he can stay. If we can hold on to great players like him, I think we can be a real force next season."
In September, United rejected a £1.25m double bid from Huddersfield Town for Russell and Gary Mackay-Steven, who also lauded his Scotland Under-21 team-mate.
"Before his injury, he was doing great and banging in the goals, so I'm not really surprised that a big club in Italy is looking at him," said the 22-year-old winger, who brushed off suggestions that he too might be the subject of end-of-season interest.
"I'm happy here, we've got a great young team and we've been doing well.
"The main thing is to be happy and enjoying your football, which I am at United."
Mackay-Steven also praised Souttar and Gauld, saying the teenagers' performances in the Scottish Cup semi-final defeat by Celtic showed "maturity beyond their years".
"They have unbelievable futures ahead of them and hopefully they can keep it going," he said.
"They are two level-headed boys and they have the world at their feet.
"And there's other good players coming through as well, so it's great for United."
Mackay-Steven is enjoying partnering Gauld in support of experienced target man Jon Daly.
"He has unbelievable awareness," he said of the 17-year-old. "He's clever and mature and has great awareness and a great touch.
"He's small, but he doesn't let that affect him. He can be anything he wants to be."
Midfielder John Rankin is happy to be the holding man behind two such talented young ball players.
"Gauldy and Gazza are a joy to watch," he said. "We are sometimes a bit outnumbered in the middle of the park to allow Gauldy to play just off the front.
"But we've always said that, if we work ourselves into the ground to give Gauldy the ball, he will produce a moment of magic.
"He is a bit like Gazz and, to have two boys like that, they might be luxury players, but they are certainly great to watch and they can turn the game in the space of a second."
McNamara has continued where he left off with Partick Thistle, who will join United in the top flight next season, by giving young players an early chance to shine.
"He has not changed too much," said Rankin of the manager who took over from Peter Houston in February.
"He has brought in two-touch, three-touch stuff in training and it has improved our sharpness.
"He likes us to go and express themselves and it is certainly working so far."
Perhaps the last word should be left to a chairman who had warned of dark times for Scottish football should league reconstruction fail to win sufficient support.
Dusting himself down from that off-the-field defeat, Thompson predicted better times on it thanks to "a vibrant youth policy".
"The outlook for next season excites me," he told his club website. "We have an exciting new manager in Jackie McNamara and I believe we have a bright future ahead of us."