Millwall 0-0 Crystal Palace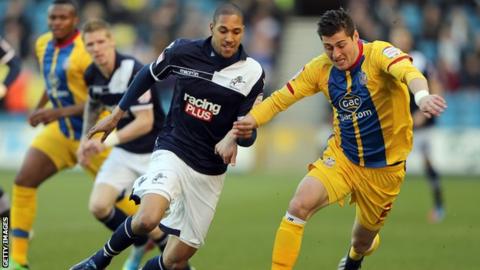 Millwall and Crystal Palace played out an uninspiring goalless draw in a south London derby that had an impact at both ends of the Championship table.
A draw on the final day would now be likely to keep the Lions up, while a point would almost certainly clinch the Eagles a play-off place thanks to their respective goal differences.
Josh Wright went close with a half-volley for Millwall.
Lions keeper David Forde also denied Yannick Bolasie with a good save.
Both sides knew a win would be enough to seal their ambitions - survival in one case, a shot at promotion in the other - before the final day of the season but neither side was willing to take risks as a point was also useful for both.
Palace striker Glenn Murray, who is the Championship's top scorer with 29 goals but has now failed to score in eight games, had another disappointing day in front of goal.
He had a great chance with Forde off his line and could even have squared the ball to Owen Garvan to tap into an empty net but instead he made it too easy for the Republic of Ireland goalkeeper to deny him.
Sean St Ledger, Andy Keogh and Shaun Batt squandered chances for the Lions, while Damien Delaney had a chance to win it for Crystal Palace late on but fired wide.
In the latter stages, Dany N'Guessan was substituted by Millwall for tactical reasons just 15 minutes after coming on.
He was booed by his own fans as he took his time leaving the pitch, before ignoring manager Kenny Jackett and walking down the tunnel.
Millwall manager Kenny Jackett on Dany N'Guessan:
"It was a reflection of his performance. The substitution opened us up and I needed to address it to get us over the line.
"You have to play with direction and passion at Millwall and I didn't think that was there."
On next weekend: "We don't want to be worrying about what's happening up and down the country. It's in our hands and we want to win. We've had lots of big games this season, it's a terrific league and that's why we want to stay in it."
Crystal Palace boss Ian Holloway:
"I've been confident in my team all along. The fact is we have had an horrendous run, but sometimes you have to enjoy what you get.
"We were a threat, we looked solid and I thought everyone in my team played well so let's enjoy this one. Then we've got another one to enjoy on Saturday and we are one of the lucky teams, we are at the right end.
"We need one more point and with a performance like that I can see us getting it. I want to get Palace in the play-offs and if we do get there I think we'll be a handful."