Liverpool and Luis Suarez walk on through the storm

Last updated on .From the section Football95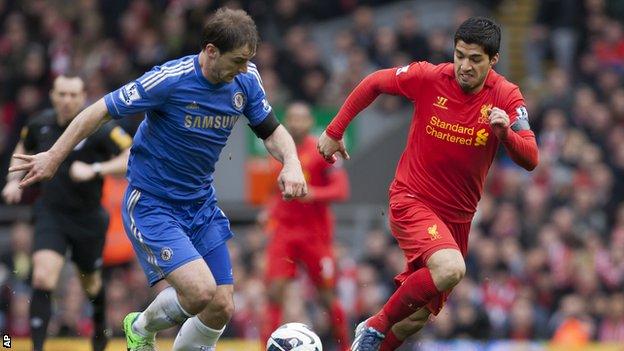 For much of the past week, Liverpool owners John W Henry and Tom Werner have been focused on matters of life and death, not football.
Just a few hours later, two bombs exploded less than half a mile from Fenway Park, home to their beloved baseball club Boston Red Sox, killing three people and injuring hundreds more.
They returned to Boston last week and their attention only turned back to football in time for Liverpool's game with Chelsea, in time to see Luis Suarez bite Branislav Ivanovic's arm at Anfield on Sunday and in doing so reopen the debate about a player who divides opinion like no other.
The events of the previous six days will have ensured perspective would not have been hard for Henry and Werner to find.
And yet as they watched in Boston, it quickly became clear to them that what was unfolding in front of them was another crisis Liverpool could do without.
The club's managing director Ian Ayre had left Anfield early that afternoon, vacating his seat well before the incident that would come to overshadow a typically pulsating 2-2 draw.
It wasn't until he reached Manchester airport, bound for a promotional trip to the Far East and then Australia, that he was told the seriousness of what had happened.
The trip was cancelled immediately and Ayre returned to Liverpool.
Henry and Werner were actively involved from the start as Ayre set up the meetings with Suarez and Reds manager Brendan Rodgers that prompted the three statements that were released in the hours after the match.
No one in the corridors of power at Anfield wanted to repeat the mistakes that had been made when the Uruguayan striker was charged with using racially abusive language towards Manchester United's Patrice Evra.
A fine followed but the club stopped short of suspending their own player, preferring instead to leave the punishment to the Football Association.
The calls for Liverpool to sell their most valuable asset, to move him on before he damages the brand, rumble on.
Henry and Werner insist they have no intention of selling Suarez. Both men have been in sport long enough to know that clubs do not sell their players to dampen an outcry, no matter how serious the offence - especially when that club is battling to re-establish itself at European football's top table.
From the moment he walked into Anfield, Henry has known that if his investment is to work and Liverpool are to compete once more, he needs a club he can sell worldwide and a star player to sell it for him.
Before Sunday that player, for all his faults, was Suarez. He remains a key cog.
This summer's transfer plans involve strengthening around the striker, in order to build a team capable of returning the club to the Champions League with one of the world's finest players as the cornerstone.
That remains the case. And yet there is, as with all football clubs, a realisation that everyone, even Suarez, has their price.
Juventus, who made no secret of their interest in the player last summer, have already hinted that they intend to follow up that interest this summer.
At least one other European club have also expressed an interest in a player Liverpool privately value higher than than the £50m they sold Fernando Torres to Chelsea for in 2011.
Ayre reiterated the club's determination to cling on to Suarez on Monday, by claiming he represents "everything we would want in a striker".
Liverpool bought Suarez for £22m in January 2011, a matter of months after a similar biting incident on PSV midfielder Otman Bakkal.
They knew what it was they were letting themselves in for.
This season alone, he admitted he dived to win a penalty, used his hand to help end non-league Mansfield's FA Cup dream, swallow dived in front of Everton boss David Moyes after a goal in the Merseyside derby and scored 30 goals to put himself in with a chance of winning the PFA Player of the Year award.
In one of his first interviews after joining Liverpool, Suarez addressed his controversial past.
"I want people to recognise me for my goal-scoring ability and the work that I put in for the team. Hopefully, in England, people will get to know me for those skills and nothing else," he said.
For now, Liverpool will work with the player to address the devilment that he struggles to control.
Without Suarez, Rodgers' difficult first season may have turned into something altogether more grisly. So for now, Liverpool and Suarez walk on through the storm.