Brentford & Doncaster Rovers: Two teams but just one place
By Robert Stevens and Ian Woodcock
BBC Sport
Last updated on .From the section Football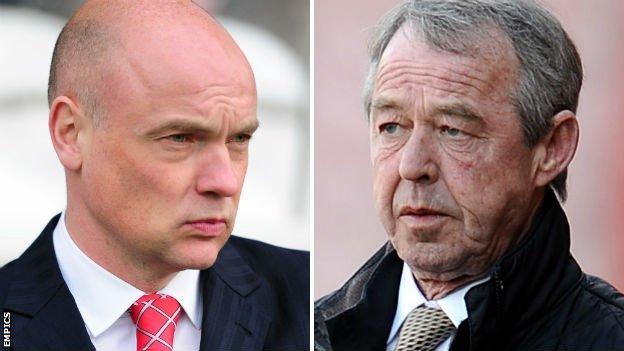 It has been a long season for Brentford and Doncaster Rovers fans - and it all comes down to the final day on Saturday.
After 45 games or 4,050 minutes (plus stoppage time) of League One action, the Bees and Rovers are separated by two points with one game remaining.
Doncaster are second, Brentford third - and they meet this weekend at Griffin Park, where 12,000 fans will witness agony and ecstasy.
If Brentford beat Doncaster they will seal a place in the Championship. If they do not then Rovers will go up instead.
As final-day scenarios go, this one is about as straightforward and dramatic as it gets.
Even if this match was not effectively a play-off final, it would be a pretty eye-catching prospect as the hosts have the best home record in the division while Rovers boast the best away record in the whole of the Football League.
Doncaster missed the chance to win promotion last weekend, when they lost at home to Notts County, and Football League Show pundit Leroy Rosenior thinks that gives Brentford, who have won six of their last seven home matches, the advantage.
"It's an unbelievable situation," the former Bees boss told BBC Sport. "It is such an exciting end to the season. I feel for both sides.
"Doncaster will have wanted to put it to bed at home last weekend.
"Brentford go into it with everything to gain. Even though they are two points behind, a lot of people would take winning your last home game to get promoted. Doncaster, with that massive disappointment, have everything to lose.
"Brian Flynn has done a terrific job at Doncaster but this will have been the longest week of his life."
In Flynn, Rovers have a manager who has seen a lot of what the game has to offer.
The 57-year-old enjoyed 12 years in charge at Wrexham and helped Swansea retain their Football League status on the final day a decade ago.
Having spent eight years with the Wales youth set-up before coming to Doncaster at the start of the season, initially as a scout before stepping into the vacancy left by Dean Saunders's exit, he is relishing the prospect of Saturday's match.
"It is a 90-minute winner takes all and it's been such an exciting league coming down to this," he told BBC Radio Sheffield.
"What a place Griffin Park will be on Saturday. Every footballer wants to play in games like this. It doesn't get better than a promotion match in front of a full house.
"The players know the importance of the game and we don't need to emphasise that. We have to remain calm, collected and ready for the big battle.
"They're fine and they've trained well. Last Saturday is out of their system."
Come full-time on Saturday one of the two sides will be celebrating joining Bournemouth in the Championship while the other will be consigned to a place in the play-offs.
Doncaster will have fond memories of their last time in the play-offs which ended with them beating Yorkshire rivals Leeds 1-0 in the 2008 League One final.
While Rovers fans may be able to take solace in that, the play-offs are an entirely different prospect for long-suffering Bees fans. They have seen their side enter six play-off campaigns and fail to gain promotion every single time.
Since the turn of the year both sides have been in the thick of an incredibly tight League One promotion race. Doncaster have been in the top two for all but one week while Brentford only left the top six during a mini-wobble at the start of February.
Rosenior says it is important that both sets of players concentrate on the importance of the fixture rather than the promotion that awaits one of them.
"The players will be getting as much rest as possible, not just physically, but also mentally," he said. "They'll be doing things to relax them and get them smiling.
"Both sets of players have shown how good they are at this level and it's about taking their minds off the prize and just focusing on the game.
"For both teams, it will be difficult for them in the Championship, but it would be something they'd enjoy."
Promotion to the Championship would end Doncaster's stay in League One after just one season while Brentford are looking to secure a return to the second tier of English football for the first time since 1993.
The man masterminding their promotion push is no stranger to the upper echelons of football's pyramid.
In his playing days, Uwe Rosler graced the top flight in his native Germany as well as England and Norway, where he started his managerial career.
Earlier this year he extended his contract at Griffin Park until 2015 and the former Manchester City and Southampton striker sees the west London club, who have plans to move to a new stadium, as one on the up.
"The tension and the temperature will rise and hopefully we can peak at three o'clock on Saturday," Rosler told BBC London.
"It is about details and getting the players in the right mood. We will see how far we have come.
"In 90 minutes we can achieve Championship football.
"It is a golden opportunity for this football club and everyone connected to it. We have worked hard to get in this position.
"Everyone should look forward to it but not get nervous. We will fight until the final whistle."