Luis Suarez bite: Pundits' reaction to Chelsea incident
Last updated on .From the section Football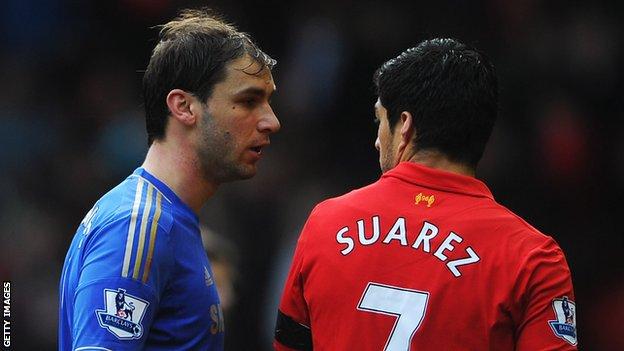 Liverpool's Luis Suarez deserves "a lengthy ban" for biting Chelsea defender Branislav Ivanovic in Sunday's Premier League match at Anfield, according to ex-Reds defender Mark Lawrenson.
Match of the Day's Alan Hansen, another former Liverpool player, said the incident was "absolutely appalling", while Robbie Savage described it as a "shocking and disgraceful" incident
Former Liverpool defender Mark Lawrenson
"What he did has absolutely no place in football and he is going to get - and deserves - an extremely lengthy ban.
"A fine doesn't really matter with these lads because money is not an issue with them as they have got so much of it.
"I don't think you can argue against a lengthy ban, no matter who you support. You cannot bite people anywhere, let alone on a football field. It is the type of thing you do when you are a baby.
"I've absolutely no idea what drives you to do what he did. The only one who can answer that is Luis Suarez.
"If the Football Association decides to take retrospective action, then Suarez will be in big trouble. The football world has gone absolutely mad over it
"He's a world-class player, but he gives you world-class trouble.
"Biting an opponent will completely overshadow anything he has done against Chelsea or has probably ever done before on the pitch.
"Whether he has become a liability is a decision Liverpool now have to make. There will always be a problem here.
"If the club are going to be brave and say he is up for transfer, then they know they are going to have to take a hit. Because if anybody wants to take him they are not going to pay in excess of £40m, which is the sort of value people might have put on him before Sunday's incident."
Match of the Day analyst Alan Hansen
"There is history between Liverpool and Chelsea, so you expect good things and bad things. But you're not expecting this. It was absolutely appalling.
"The television pictures will be going around the world, so it's horrific for Liverpool Football Club and the player himself.
"Why he did it, you'll never know, but there appears to be a massive flaw in his character.
"He is a brilliant player who has had a brilliant season, so if Liverpool get rid of him, they will be the losers.
"But who has ever sacked a footballer? If you are a valuable commodity at a football club, they give you more leeway.
"Despite what has happened, plenty of clubs will want to take him."
BBC Sport football pundit Robbie Savage
"We were watching in disbelief. The red mist came down and to do that to a fellow professional is shocking and disgraceful.
"I've defended Luis Suarez at times but you cannot defend that. The evidence is conclusive.
"Liverpool have done the right thing by releasing a statement. Now we will wait to see how it will be dealt with by the Football Association."
Former Liverpool manager Graeme Souness
"Suarez has shown the club in a bad light. I'm not sure what to make of it. It's embarrassing.
"Suarez is making it very difficult for himself to stay at Liverpool. This puts him in the last chance saloon.
"People will be talking about this for a long, long time. This is not the first time he has bitten someone in a football match.
"Most important is safeguarding the good name of the football club. Liverpool are world-renowned.
"He is risking everything this great club stands for. I've never seen something like that in a football match before.
"There are lines you just can't cross, and he has crossed it today. Those pictures will be beamed across the world.
"It's very difficult for Brendan Rodgers to defend him. We will get politicians involved in this and everything."
Former Liverpool boss Souness, who made 359 appearances for the Reds between 1978 and 1984, was speaking on Sky Sports.
Former Liverpool captain Jamie Redknapp
"Luis Suarez obviously has a big problem. He has that madness gene in him. What he did was indefensible.
"What is he doing? Why would you want to take a chunk out of someone's arm on a football field? That is an incredible act of brutality.
"It's madness, it is beyond belief and it's such a shame because he plays for such a great football club.
"I'll be surprised if he plays again this season. What message will that send if he doesn't get a two or three-game ban? You can't defend that. Anybody who tries to is completely wrong."
Redknapp, who made 308 appearances for Liverpool between 1991 and 2002, was speaking on Sky Sports.