Former Fifa vice president Jack Warner's football legacy goes on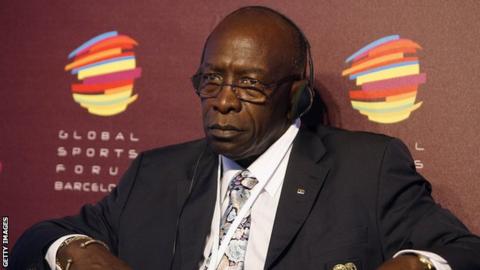 Jack Warner's association with football officially came to an end when he resigned from Fifa, football's world governing body, in June 2011.
But after spending decades as one of the most powerful men in the game, his legacy continues to cast a long shadow across the sport.
His influence and power led the great and the good of football to travel to his native Trinidad in order to speak with him and gain his support.
David Beckham provided just one notable example when he visited in 2010 on behalf of England's ill-fated World Cup 2018 campaign.
But his time in charge of Concacaf - the federation responsible for football in the Caribbean, together with North and Central America - came to an abrupt halt.
With the election for the Fifa presidency only weeks away, Warner invited Mohamed bin Hammam, the Qatari head of the Asian Football Confederation (AFC) and the only challenger to Sepp Blatter in the poll, to a special meeting of the Caribbean Football Union (CFU) in Trinidad.
It was billed as a chance for Bin Hammam to lobby some of the national associations whose votes he would need on election day if he was to stand any chance of becoming the head of world football.
But the meeting became infamous for the allegations that Bin Hammam, with the collusion of Warner, offered brown envelopes stuffed with thousands of US dollars to the delegates who attended as an inducement for their vote. The allegations have always been denied by both men.
It later emerged that Chuck Blazer, Concacaf's general-secretary and a long-time associate of Warner, had turned whistle-blower by submitting a dossier of allegations from those at the meeting to Fifa's ethics committee.
Blazer's move pitched the former allies against each other in a battle that, for a short time, threatened to tear Fifa apart and ultimately led to months of bitter internal wrangling within their own confederation.
Bin Hammam has now been banned from football for life after a separate investigation into his time as head of the AFC concerning "conflicts of interest".
Warner, meanwhile, chose to resign from all of his football positions, avoiding a date with the ethics committee and a potential judgement against him. Under Fifa's regulations all investigations were required to stop once he stood down.
Three years on, the fighting within Fifa has diminished and a faltering reform process is under way.
Warner, 70, continues to serve as a minister in the Trinidad and Tobago government.
His threat in 2011 to release a "tsunami" of allegations over alleged corrupt practices within Fifa has largely failed to materialise.
Instead, Concacaf is only now emerging into the light after being embroiled in a storm of legal disputes and claims over the legitimacy of its leadership.
Allegations of serious financial mismanagement have also been made.
Reports from the US allege that the FBI have been examining more than £300,000 in payments made by the CFU over the past 20 years to an offshore company headed by Chuck Blazer.
And, last June, Warner told BBC Sport that Blazer had used Concacaf cash to fund a luxury lifestyle in New York and Miami.
Blazer resigned as Concacaf general-secretary in December 2011 and is due to step down from Fifa's powerful executive committee next month.
The confederation's new president, Jeffrey Webb, ordered a thorough financial audit shortly after being elected.
The fallout for Warner after his years in charge looks set to continue with the Reuters news agency reporting last month that his son, Daryan, is working with the FBI as a cooperative witness in their investigation.
The BBC's Panorama programme has also alleged Warner was repeatedly involved in the wholesale reselling of World Cup tickets to touts.
But it's Warner's role in the bidding process to host the 2018 World Cup, which ultimately went to Russia, that is perhaps the most illuminating.
As a member of Fifa's 24-member executive committee - which decided the 2018 and 2022 tournament hosts in a secret ballot - Warner's vote was the subject of intense lobbying from the candidate countries.
In an 2007 interview, Warner said he wouldn't back England's bid believing that "…nobody in Europe likes England. England invented the sport but has never made any impact on world football."
It was the opening shot in a bidding process that was, ultimately, to be a humiliating experience for England.
But less than a year later Warner had swung behind England's bid.
"They last held the World Cup 42 years ago. That is almost two to three generations. There are guys in England who have never seen a World Cup on English soil," he said.
The England team travelled to Trinidad and Tobago to play a friendly match in 2008 and then came Beckham's high-profile visit in September 2010.
When the ballot finally took place, in December 2010, England crashed out in the first round after securing only two votes, despite last-minute interventions in Zurich by FA President Prince William and Prime Minister David Cameron.
A Parliamentary inquiry into the failed bid saw former FA chairman Lord Triesman accuse Warner and several other Fifa executive committee members of asking for payment, gifts or favours in return for supportive votes.
Warner reportedly asked for £2.5m to go toward building an education centre in Trinidad.
Sir Dave Richards, the chairman of the Premier League was present at the meeting and has said he believes the intention of cash in return for backing England was implied but never explicitly stated.
Warner described the allegations as "a piece of nonsense".
A controversial character throughout his time in football, it seems Warner's fate is still being played out.
However, it appears that matters are now far beyond even his considerable influence.