Malky Mackay: The man behind Cardiff City's promotion
By Dewi Hughes
BBC Wales Sport
Last updated on .From the section Football76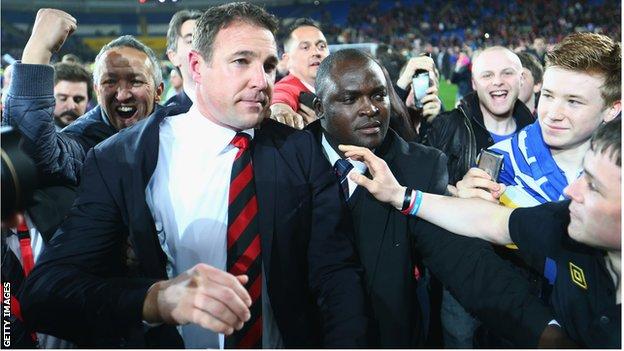 When Malky Mackay held his first training session in charge of Cardiff City, he barely had enough players for a game of five-a-side.
Such was the mass exodus that followed Dave Jones' sacking in the summer of 2011, the new manager was greeted by a threadbare squad still smarting from a second successive Championship play-off defeat.
Less than two years on, Mackay has transformed the squad and delivered promotion to the Premier League. Another two points from their remaining three games will see them promoted as champions.
The team he has built embodies all the attributes that made the 41-year-old Scotsman a respected player and now marks him out as one of the most promising young British managers in the game.
"He's been immense," said striker Craig Bellamy, who returned to his hometown club in the summer of 2012. "He's really grasped what this club is about because we are a different breed down here.
"The fans have taken to him, the club's taken to him. He's really pushed us forward with his professionalism.
"Financially this club is going to grow, there's no doubt about it. And with him at the helm it's just going to allow us to do it in the right manner."
Cardiff were tipped as relegation candidates in Mackay's first season. Instead he led them to the play-offs, where their limitations were highlighted in a comprehensive defeat by West Ham United, who went on to win the final.
Before that, Cardiff pushed Liverpool all the way in the Carling Cup final before eventually losing on penalties.
Inheriting a Cardiff squad scarred by play-off failure and in need of rebuilding represented a tough enough prospect for an experienced manager, but Mackay arrived in south Wales with a mere two years' experience behind him.
Add to the mix the pressure that accompanies having a billionaire owner impatient for Premier League riches, and this was the ultimate test of Mackay's credentials.
But the former centre-back, whose office walls are adorned by inspirational biographies and leadership manuals, emits an unwavering belief in his methods and principles. And the key to his success has been to install those same traits in his players.
"The honesty of the boys is second to none," said captain Mark Hudson, who was brought to the club by Mackay's predecessor.
"We put everything into every game and into training and we've taken on board what the manager has demanded of us."
Mackay's revolution was made easier by the willingness of chairman Vincent Tan to bankroll the process.
But the manager has not been given a free reign to spend wildly. Of the 10 players Cardiff signed on permanent deals in Mackay's first summer, seven were free transfers. Fees were paid only for defender Ben Turner and strikers Kenny Miller and Joe Mason - for a total of less than £2m.
The recruitment process went up a notch the following summer with a further nine signings. That is when Mackay found the missing ingredients and Tan demonstrated his commitment with a significant outlay.
Along with the class and potential of the likes of Nicky Maynard (out injured since September), Jordon Mutch and Craig Noone, Mackay brought in invaluable experience. Matthew Connolly,Heidar Helguson and Tommy Smith added promotion know-how and the type of work-rate and selfless attitude the manager values so highly.
The final jigsaw was Bellamy, a man on a mission to inspire his hometown club to the Premier League.
But it still needed a strong character to mould this collection of strangers into a team in such a short space of time, and that has been Mackay's greatest triumph.
"The team spirit is superb. You've got a hard-working group of boys who will do anything for each other and do anything to get a result by working so hard," said Bellamy.
"I see it every day, and it makes it so special being with this group of players. It's a positive and honest group of players, and the manager has installed that in us. He's just been a joy to be around."
Tan's initial investment in 2010 saved the club from financial ruin and the Malaysian businessman puts his subsequent expenditure on players at £13m.
But for many, the investment has come at too high a price.
A simmering undercurrent of hostility towards Tan remains after his decision to change the club's colour from blue to red - all in the name of "maximising marketability" to make Cardiff "as big as Man U and Liverpool" in Asia. Some lifelong fans, or "customers" as Tan referred to them, have felt alienated.
Tan disregarded the objectors as "a bunch of mostly young kids". But it was telling that as he entered the field after Cardiff's draw with Charlton that clinched promotion Tan was greeted jeers as well as cheers, and chants of "Bluebirds, Bluebirds", followed by "We're Cardiff City, we'll always be blue".
Before changing the club's branding, Tan had already demonstrated his ruthlessness by sacking Jones despite the manager's creditable record and vast experience.
It seems inconceivable to suggest Mackay will not be entrusted with the promise of £25m to assemble a squad capable of competing in the Premier League, but changing a manager is a small step compared to ditching more than 100 years of tradition. How much patience will Tan demonstrate if Cardiff struggle during their first months in the top flight?
Tan has followed Swansea City's progress intently, and will no doubt have noted the huge worldwide interest generated by the appointment of a stellar name like Michael Laudrup. The Dane's instant success in winning the Capital One Cup and comfortably securing another season in the Premier League will not have gone unnoticed either.
But Mackay has surely done enough to warrant more time to continue his excellent work. And his task of preparing a Championship squad for the Premier League will not fail because of a lack of planning.
Meticulous planning, according to Hudson, separates Mackay from past failures to give Cardiff the telling edge this season.
"Day in day out, he's the ultimate professional," said Hudson. "We've given him the consistency he demands.
"We've been promoted but the manager wants us to win the league and that's what we're going to do."