'Jose Mourinho and Real Madrid CL success would be special'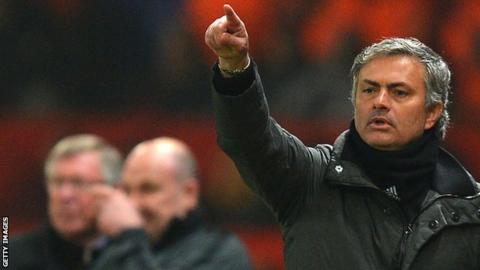 Winning the Champions League with Real Madrid would be Jose Mourinho's biggest achievement, says former Bernabeu defender Michel Salgado.
Mourinho, who is hoping to become the first manager to win the trophy with three clubs, must first get past Borussia Dortmund in the semi-final.
"It is not the same winning the Champions League with any other club as it is with Real Madrid," Salgado said.
"Real Madrid are really demanding and expectations are very big."
Despite a disappointing La Liga campaign, with Real currently 13 points behind leaders Barcelona, Mourinho - who is yet to decide on his future - remains one of the most respected coaches in the game.
He has won league titles in his native Portugal, England, Italy and Spain, and has enjoyed Champions League triumphs with Porto and Inter Milan.
"The Champions League is really special for this club. It means a lot for the history of Real Madrid," Salgado, who was in the last Real team to be champions of Europe in 2002, told BBC Sport.
"Winning the Champions League here for Mourinho would prove a lot. It would be his biggest achievement - the top thing in this world is winning the Champions League with Real Madrid.
"It has been a long time. All the Real Madrid fans, the club, the players, are desperate to get to the final."
Real, who have won a record nine European Cups, travel to the Westfalenstadion for the first leg of their semi-final against Dortmund on Wednesday.
The winners are likely to meet Bayern Munich, who thrashed Barcelona 4-0 on Tuesday in the first leg, in the final at Wembley.
Salgado, who made more than 250 appearances in 10 years at Real before leaving for Blackburn Rovers in 2009, believes Bayern Munich have to be favourites to lift the trophy.
Speaking before the German side's comprehensive on Tuesday, Salgado said: "The most complete team in Europe is Bayern Munich. They have got everything.
"Barcelona without Messi, they struggle. Real Madrid without Ronaldo is similar. Bayern are different. They have got something special, they have got everything."