Ian Holloway: Crystal Palace must find belief
Last updated on .From the section Football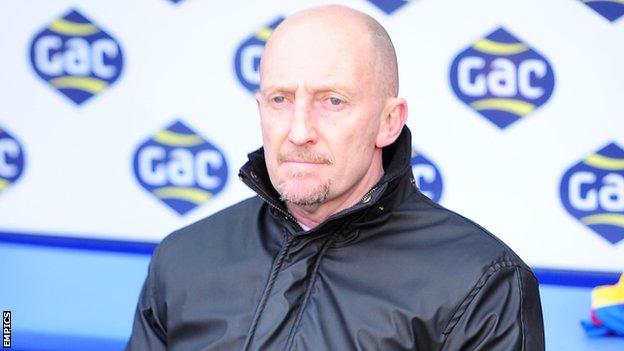 Crystal Palace manager Ian Holloway says the side must rediscover their self-belief if they are to hold onto their Championship play-off place.
"We've got to believe in ourselves. It's going away from us and we've got to try and get it back," he said.
"Life is like that. You have to be brave enough to pull things out of the fire but you won't do it unless you stick together."
He added: "That is a huge test for us and let's see if we can bounce back.
"I need to support them through this. I've glad I've got 18 years experience.
"It's not good enough at this moment in time."
Palace slipped to fifth in the table following their loss at Portman Road and the Eagles are now three points ahead of seventh-placed Bolton Wanderers and eighth-placed Nottingham Forest, albeit with a game in hand.
"We started fine, were moving the ball around and up until the goal I felt really comfortable as it was the best we had been for quite a while," Holloway said.
"In a couple of minutes it all turned round.
"Their second goal was an outstanding strike.
"Will the kid [Aaron Cresswell] ever score a goal like that in his life? Probably not.
"Will my goalkeeper and centre-half ever make a mistake like that? Talk about the stuffing knocked out of you.
"The fans who travelled were magnificent and now is the time we need to stick together and work our socks off."
Palace now welcome Leicester City, who are two points below them in sixth, to Selhurst Park on Saturday.
Holloway has hinted he may tinker with his starting line-up in a bid to ease their reliance on striker Glenn Murray, who has scored 30 goals this season.
"We have got to try and take them on and beat them," he said.
"One goal might make a huge difference.
"At the minute we have got one bloke who's scored 30 [Murray] and the rest of the teammates aren't scoring.
"We'll try and share out that responsibility a bit, put some fresh people out there and let them have a go.
"We have got fantastic fans and they will come in and help us.
"They have created a wonderful atmosphere at Selhurst Park where there is no fear to play. We need that.
"Those boys need to get over this [defeat to Ipswich] and work hard - end of story.
"If anybody ever worked harder than me in their career, I'd like to meet them. I'm going to do the same again."