Aberdeen 'frustrated' at SPL restructuring vote failure
Last updated on .From the section Football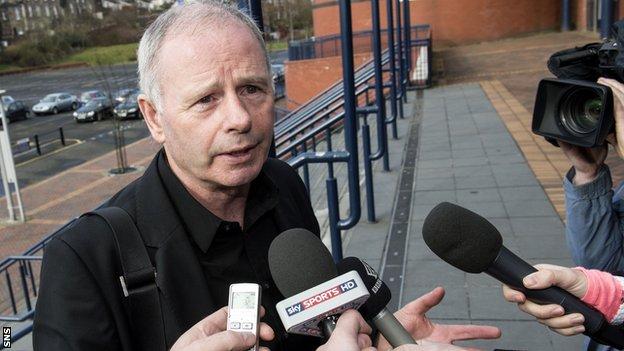 Aberdeen have expressed "frustration and disappointment" following failure of the Scottish Premier League to vote for restructuring Scottish football.
Clubs met on Monday but failed to achieve an 11-1 majority to push through a proposed 12-12-18 set-up.
The Dons' statement said: "Monday's failure to deliver the real benefits to the national game was a huge mistake".
And the Pittodrie club says it will now "work with others who share our belief in delivering real positive change."
As well as changing from the current 12-10-10-10 set-up, the proposed package of change included merging the SPL and Scottish Football League into a single body and a re-distribution of income for the 42 senior clubs.
St Mirren and Ross County voted against the plans and thus scuppered the vote.
A late amendment to the plan, which would have changed the majority needed for future restructuring, was offered in an attempt to achieve the necessary support for approval.
However,
Aberdeen cite a "unanimous support for the principles" following a general meeting of the SPL in January.
"The time and effort put into this process was huge and the SPL executive, board, restructuring team and legal representatives spent considerable time on this to enable final documents to be sent out to all SPL clubs," the Pittodrie club added.
"It was agreed by all parties that the key to unlocking the deadlock was to deliver far more meaningful games to the supporters that would also be attractive to broadcasters and sponsors alike.
"We found it difficult to understand why the two clubs that rejected the proposal waited until so late in the day to state they would vote against.
"Only by delivering a new organisational structure, as the proposal did, that significantly increases meaningful games enabling financial benefits to be passed down to all clubs will the game move forward.
"Voting reform and an all through financial distribution would also have occurred. It is extremely difficult to see another way of delivering all of these benefits that will receive the backing required."