Premier League's relegated clubs to receive £60m boost
Last updated on .From the section Football393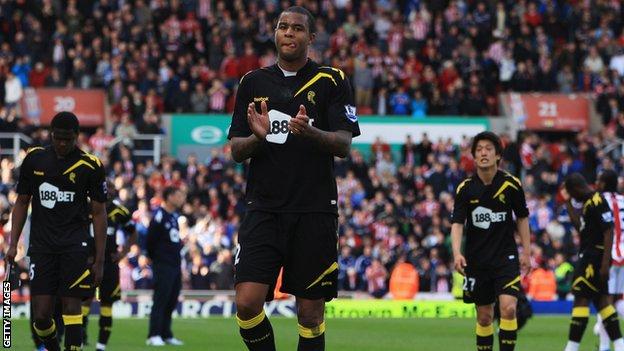 Clubs relegated from football's top flight will receive in excess of £60m over a four-year period from next season.
The Premier League has agreed new parachute payment arrangements, although it is yet to confirm the exact figure.
Clubs relegated to the Championship currently receive £48m over four years.
Reading, Queens Park Rangers and Wigan are currently in the bottom three and facing relegation.
Parachute payments were introduced to help relegated clubs absorb the huge losses in revenue that accompany dropping out of English football's lucrative top division.
The new deal will remain in place for the next three years and replaces a deal agreed in 2010. Then, the Football League voted to accept parachute payments from the Premier League over four years instead of two - although the payments increased from £32m to £48m.
The revised payments meant that instead of clubs relegated from the Premier League receiving £16m a year for two years, they received the money over four years - £15m for the first season, £17m for the second and then a further two payments of £8m per season.
Last month, chairmen of the 24 Championship clubs met to discuss the latest proposal, but the outcome of the meeting was inconclusive.
Earlier this season, current Rochdale boss Keith Hill criticised parachute payments when he was manager of Championship side Barnsley, stating that they were "rewarding failure".
"I've never been rewarded for doing anything wrong or being relegated," he told BBC Radio Sheffield.
"Clubs that get relegated get rewarded financially, how does that make sense?"
Sheffield Hallam University sports finance specialist Rob Wilson says he can understand why parachute payments could be viewed with scepticism by some Championship and lower league clubs.
He told BBC Sport: "The bigger increase in parachute payment should, by rights, help the transition for any club that gets relegated to the Championship.
"What it will also do is make it a little bit more difficult for other clubs in the Championship to compete.
"It is almost like, in many ways, they [the Premier League] are protecting the integrity of the three clubs that are relegated to the Championship, giving them a lot more money to survive in the league below which might then increase the same three clubs's chances of getting promotion at the first attempt."