Cardiff City's boast: Nearly men no more

By Rob Phillips
BBC Wales football reporter
Last updated on .From the section Football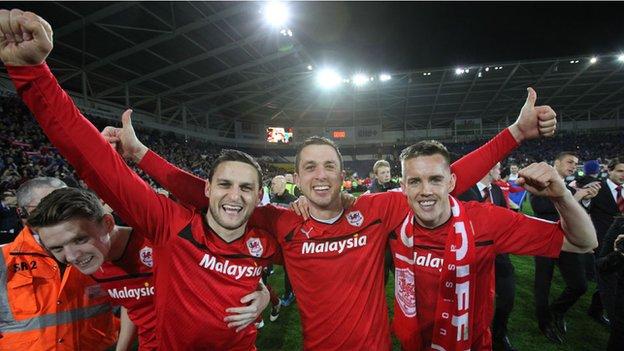 Cardiff City's ultimate rebrand is complete - from Football League nearly men to
Last summer there was a furore among fans over the kit colour change from blue to red demanded by Malaysian owner Vincent Tan.
But nothing will transform the club more than fulfilling the dream of a place back in the top flight for the first time in 51 years - clinched in Tuesday's 0-0 draw with Charlton.
I've been chronicling events at Cardiff City for more than 25 years.
My first game as a professional observer was the Division Four clash at home to Leyton Orient at the start of the 1987-88 campaign. Fans' favourite Jimmy Gilligan scored in a 1-0 win in front of 3,357.
The Bluebirds won promotion that year. Yet, typically, they returned to the bottom tier two years later.
It was a relatively big club bumbling along in the lower echelons, which frequently flirted with financial oblivion, sizeable support and maverick owners.
Player sales - from forward Kevin Bartlett to West Bromwich Albion in 1989 to Welsh midfielder Aaron Ramsey's departure to Arsenal in 2008 for £5m - have traditionally helped keep the club afloat.
But in 2008 then chairman Peter Ridsdale described himself a ''relieved'' man after the club were rescued from the brink of financial disaster, winning a High Court battle over loan notes worth £24m from Swiss investment company Langston.
The Langston issue is still subject to negotiation with former chairman Sam Hammam.
And in 2010 the club were in court again, avoiding administration over a £2.7m tax bill.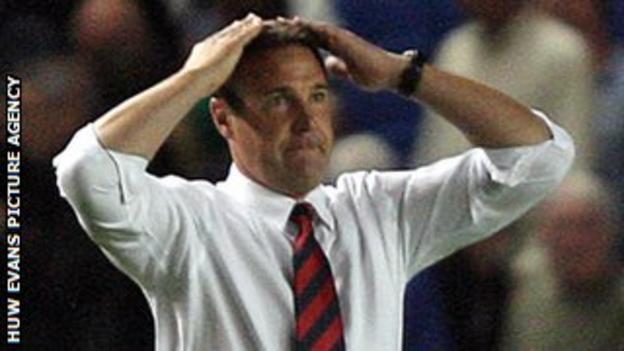 Throughout the lean days their support was enthusiastic and characterised by their chant to ''Do the Ayatollah'' - bouncing both hands (flat and pointing towards each other) up and down above your head in a patting motion.
It's eye-catching and has even been seen on the rugby pitch in the days when Cardiff City fan and 100-cap Gareth Thomas scored a try.
Some of their owners have attracted a wealth of publicity, too.
Who can forget when chairman Rick Wright introduced the new ''owners'' of the club at his Barry Island holiday camp in July 1993? They arrived on the camp train, joyously waving to the astonished press and were all under 15. He'd given the club to the Junior Bluebirds!
The arrival of former Wimbledon owner Hammam in 2000 ensured plenty of headlines.
He brought with him a Messianic zeal along with some outrageous claims to the club's ambitions - claiming they could be ''bigger than Barcelona".
Yet the rhetoric fuelled fans' dreams.
Cardiff wallowed in the lower divisions until taking a huge step forward with their League One play-off triumph over Queens Park Rangers in 2003 at the Millennium Stadium.
Then, having established themselves in the second tier, their quest for the top flight gathered momentum.
From humble beginnings with a win at Chasetown in round three, the Bluebirds made their first appearance at new Wembley with a 2008 FA Cup semi-final win over Barnsley.
Their 1-0 defeat by Portsmouth in the final was a fleeting glimpse of the big time and brought global attention which eventually bore fruition with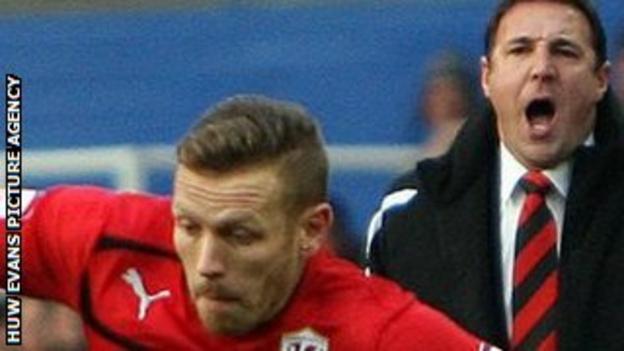 In 2009, Peter Ridsdale masterminded the departure from dilapidated Ninian Park for a new home just across the car park - the Cardiff City Stadium.
It was not just a new stadium, but a home which would help the club shrug off the dubious reputation of some of their fans from the past.
Everything appeared to be in place to make the final step. Yet the expectant fans reckoned without their team's almost pathological ability to choke.
In 2009 they looked destined for play-offs until an uncharacteristic 6-0 defeat at Preston North End heralded a haul of just one point from the last four games.
Cardiff missed out on the play-offs by a goal as Preston crept in to the top six on the final day.
A year later, Cardiff, boasting the likes of England cap Jay Bothroyd and Peter Whittingham, were seen off by Blackpool in the Wembley showpiece final.
By then, the Malaysian investors headed by Dato Chan Tien Ghee, bolstered by Tan's billionaire wealth, had come on board and were taking an increasing interest.
Manager Dave Jones was not universally popular among supporters but, having arrived in 2005, was the longest-serving boss in the division and was given another chance to oversee the last leap to glory.
Cardiff-born Craig Bellamy arrived from Manchester City - a stellar presence in an army of loan players.
The squad talent was undeniable, but the psychology always a worry and again failure was the result. Cardiff, hamstrung by a Bellamy injury, were well beaten by Reading in the play-off semi finals.
The Malaysians decided former Newcastle striker Alan Shearer was courted, but a new era was ushered in by the recruitment of Malky Mackay from Watford.
Mackay went on to defy lowly expectations, steering the club to the Carling Cup final - and a heroic penalty shoot-out tussle with Liverpool - as well as a play-off spot.
West Ham United had too much for them in the play-offs, but this campaign was encouraging rather than heartbreaking.
The team was still short and Malaysian owner Tan sanctioned spending.
The talismanic this time as a permanent transfer. Kim Bo-Kyung brought energy and skill; Matthew Connolly, Heidar Helguson, Tommy Smith harnessed promotion know-how and in January, 2013 from Sunderland to provide a timely goal boost.
The spending spree came at a price too high for some fans as Mackay, who has developed a strong bond with the faithful, admitted the fans had been tested.
Some vowed never to return. Yet those who went by the wayside have been replaced.
Even before promotion was confirmed, the club had sold out season tickets for the next campaign. The blue kit, worn away, is heartily welcomed, but the red shirts are, albeit reluctantly, accepted.
Record crowds have been magnetised by success. Mackay's men have blazed a trail, leading the division since the end of November.
There was no collapse this time. Rivals have been kept at arms' length as Mackay demanded and got ''monotonous consistency'' from his team.
Big money will surely have to be splashed in the summer in order to survive in the top flight. Yet with rocketing television revenue, promotion has never been more lucrative.
A new era will revive old rivalry. The fevered South Wales derby against Swansea City will return, underlining how club football in Wales has undergone a momentous transformation.
These are truly halcyon days. The nearly men finally nailed it - and 10% of next season's English Premier League clubs will be Welsh.