Roberto Mancini's Man City could have achieved more this season

By Phil McNulty
Chief football writer
Last updated on .From the section Football696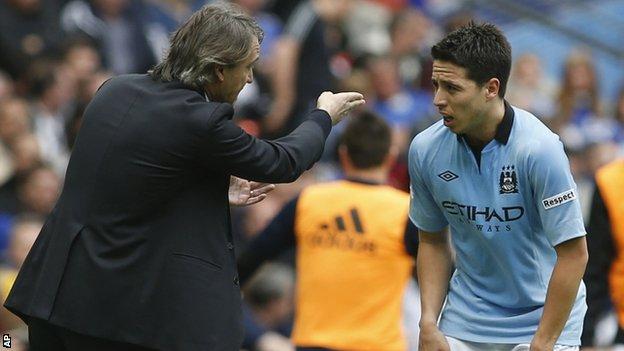 As Rafael Benitez bemoaned Chelsea's late arrival in this FA Cup semi-final, his Manchester City counterpart Roberto Mancini may feel the same about the entire season.
The Premier League champions are bracing themselves for the pain of handing over their title to Manchester United by performing with the authority and verve that ended their 44-year wait for the crown last season.
It may well bring them silverware for a third successive season - riches indeed given the barren 35 years that preceded their 2011 FA Cup Final success against Stoke City - but will not erase a feeling of what might have been.
If a desperate, winless Champions League group phase has been placed in some perspective by Real Madrid and Borussia Dortmund contesting the semi-finals, the undistinguished defence of the Premier League has been placed in sharp relief in the space of six days.
In that short space of time City have looked more powerful and potent than champions-elect United in beating them at Old Trafford for the second successive season, while for 65 minutes of a thrilling semi-final at Wembley they threatened to overwhelm the FA Cup holders until Chelsea's in-built durability and competitive instinct kicked in.
City will be favourites to beat Wigan Athletic when they return to Wembley next month but there is a wonderful "what side of the bed will they get out of?" unpredictability about Martinez's side that gives this final an enticing air of mystery.
Mancini's side deserved their win on the strength of that first hour alone, with goals from Samir Nasri and Sergio Aguero the reward they deserved for their supremacy.
Demba Ba's goal, his trademark hooked finish, revived a Chelsea side that looked out on their feet from their recent league, FA Cup and Europa League exertions to set up a succession of late sub-plots.
It took all that time for Chelsea to get going, mystifying Benitez, but when they did they turned this into a high-class, exciting Wembley occasion.
Aguero's brilliance as a striker is beyond dispute but he was fortunate in the extreme that a dreadful two-footed lunge at Chelsea's David Luiz did not bring the punishment of a red card from referee Chris Foy.
This was the least of Benitez's after-match complaints. With City unsettled and Chelsea resurgent, Vincent Kompany restrained substitute Fernando Torres with a blatant pull on his shirt as he advanced on goal in the closing moments.
Penalty? Definitely. Red card? Possibly. Eventuality? Nothing as Foy dismissed the appeals and Chelsea's last chance was gone.
So City may well claim the FA Cup once more but Mancini and his players must be questioned on how they have only started to fulfil their true potential too late in the season.
Fat lot of good it is being the finest team in the country for the last month of the season if you have squandered your obvious capacity to be the best from August onwards.
Standards have been set so high in Manchester in recent seasons that some have already started to paint United's imminent title win in a vaguely unflattering light after missing out on the Champions League once more.
And as City set sail as champions this season, there is no doubt they wanted more than the FA Cup - although no-one should ever paint this magnificent old competition as some form of consolation.
Mancini accepted this, although what is now becoming virtually a verbal tic was back again when he once again appeared to question the club's transfer policy with the words: "I think we had the chance to win another Premier League if we worked well last summer but we didn't."
It is fair to say Mancini's message has been received and understood - if perhaps not universally appreciated by all at The Etihad - given the regularity with which it is emphasised.
He has a valid point but there is still a sense that the squad he has could have achieved more, certainly if their last two outstanding performances are any measure.
City have already, to use Mancini's phrase, worked well for this summer by getting Yaya Toure to agree to a new four-year contract.
He was this semi-final's outstanding performer. Powerful, potent and at times unstoppable, he ruled midfield with an iron fist until Chelsea awoke from their slumbers.
If City move towards the sort of future Mancini demands, much of it will revolve around this giant figure who combines an athlete's physique with all the touch and poise of a world-class footballer.
Aguero falls into the same category although his launch at Luiz was an illustration of a darker side.
After the chaos and violence of Saturday night as Millwall fans fought with each other during defeat to Wigan, this was an outstanding advert for the FA Cup and these two Premier League superpowers.
City can claim the FA Cup if they overcome the very real threat of Martinez's Wigan mavericks - but the quality shown here still means there will be the notion that they could have achieved even more this season.
And you suspect Mancini and his players know it.