Premier League survival: Who will beat the drop and who'll go down?
By Neil Johnston
BBC Sport
Last updated on .From the section Football302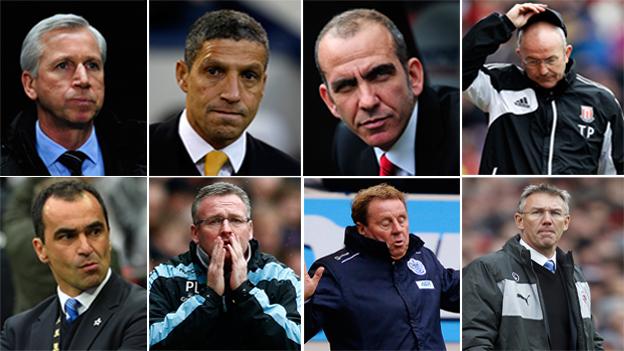 Eight clubs, four weeks and nowhere near enough points... the scramble for Premier League survival is well and truly under way.
Reading and Queens Park Rangers appear to be all but down after nine wins in 66 matches between them, while a further six clubs are separated by five points.
Can Aston Villa continue their late revival and pull clear? Is this one relegation fight too many for FA Cup finalists Wigan? Will Stoke arrest their alarming slide?
The fans of Sunderland, Norwich and Newcastle also face an anxious end to the campaign.
Here, former QPR manager Neil Warnock, who suffered relegation from the top flight with Sheffield United on goal difference in 2007, delivers his verdict on the battle to stay up.
STAYING UP
Newcastle United
13th

Played

Won

Drawn

Lost

Points

GD

33

10

6

17

36

-17
Last six league games: L W L L W L (6pts from a possible 18pts)
Neil Warnock says:
"It was always going to be difficult for Alan Pardew's side to replicate last season's form after finishing fifth in the table above Chelsea, Everton and Liverpool.
"The loss of Demba Ba to Chelsea can't have helped and neither can injuries to key players like defender Fabricio Coloccini and [playmaker] Hatem Ben Arfa.
"But there's a lot worse teams in the Premier League than Newcastle.
"They host Arsenal on the final day, but I suspect the game will be more important to the visitors, who are chasing a Champions League place."
Entertainers: The Magpies are the top scorers in the bottom eight this season with 42 goals from 33 games.
Norwich City
14th

Played

Won

Drawn

Lost

Points

GD

33

7

14

12

35

-21
Last six league games: L D L D D L (3pts/18pts)
Neil Warnock says:
"Their current form isn't good, even QPR have more points than them from the last six games.
"But what happened to them at Arsenal last week, when they led until the 85th minute before Arsenal scored a penalty that shouldn't have been awarded, was scandalous.
"I know people harp on about they should have held out for a draw, but decisions like that kill you. Not only that, it gives the opposition a huge lift.
"They need to forget about what happened last week and move on. They've got enough talent like [winger] Robert Snodgrass, who played under me at Leeds, to limp over the finishing line."
Forgotten how to win: The Canaries have only won one of their last 16 Premier League games, drawing seven and losing eight.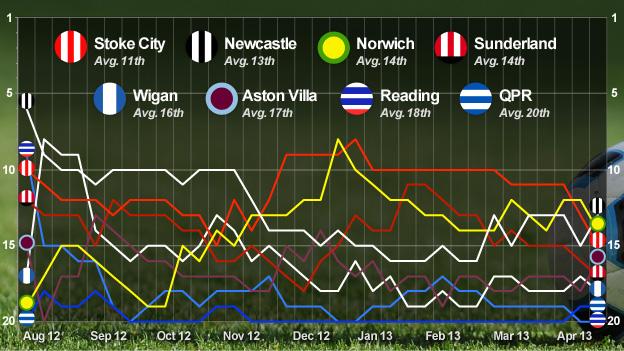 Sunderland
15th

Played

Won

Drawn

Lost

Points

GD

33

8

10

15

34

-8
Last six league games: W L L D L D (5pts/18pts)
Neil Warnock says:
"I didn't agree with them getting rid of Martin O'Neill, he didn't deserve that and Paolo Di Canio should have kept his mouth shut about the team's fitness.
"But whatever you think of Di Canio, there's no doubt he's created a vibe around the training ground and it was a fabulous win at Newcastle last weekend.
"It's a case of so far so good. Whether Di Canio's presence will work long term, I'll hold fire on that.
"Despite tough games to come against Everton and Tottenham, I believe they'll have more than enough to stay up."
One man team? Other than the injured Steven Fletcher (11), Fraizer Campbell (one) is the only striker to have scored in the league for Sunderland this season.
Stoke City
16th

Played

Won

Drawn

Lost

Points

GD

33

7

13

13

34

-13
Last six league games: L L L D L L (1pt/18pts)
Neil Warnock says:
"Stoke are in freefall.
"From eighth in the table after beating Liverpool on Boxing Day, Tony Pulis's side are just three points off the relegation zone.
"It's an alarming slide and there's no excuses. Tony's got some good players, but they've not been doing it for him.
"The wide players haven't supplied enough ammunition for the strikers - no wonder they've only scored twice in the last seven games.
"But it's still in their hands, three of their remaining five games are against teams around them, and I think they'll stay up - just."
Year to forget: The Potters have won just five points from 13 games in 2013.
Aston Villa
17th

Played

Won

Drawn

Lost

Points

GD

33

8

10

15

34

-24
Last six league games: D W L W W L (10pts/18pts)
Neil Warnock says:
"Villa have picked up as many points in the last six games as Champions League hopefuls Tottenham.
"It's the kind of form that suggests to me they've turned it around. As far as I'm concerned, if Christian Benteke is fit they'll be fine.
"Villa have still got some nasty games to come, Manchester United away and Chelsea at home won't be easy.
"But if they can overcome Sunderland and Norwich then they'll be safe - no matter what happens at Wigan on the final day."
In-form: Striker Christian Benteke is the only player to have reached double figures for goals (10) in the top flight this calendar year.
GOING DOWN
Wigan Athletic
18th

Played

Won

Drawn

Lost

Points

GD

32

8

7

17

31

-21
Last six games: L D W W L W (10pts/18pts)
Neil Warnock says:
"What an excellent achievement by Roberto Martinez and his players in reaching the FA Cup final. Few outside Wigan would have predicted that at the start of the season.
"But I really fear for their Premier League future. Reaching the final will, in my opinion, be their undoing.
"Had they managed a couple more wins and only required a couple more points to seal safety, I'd be confident about their survival chances.
"But despite a brave performance against Manchester City on Wednesday, I think they are set to repeat what Birmingham did two years ago - suffer relegation after appearing in a final.
"Seven games, including the Cup final, in the space of 29 days is a punishing schedule at any time of the season.
"They have four huge matches before Wembley and I know Martinez has said that getting to the final will lift his side.
"Believe me, the players will be thinking about the Cup between now and 11 May. None of them will want to get injured ahead of what will be the biggest day in the club's history.
"It's a difficult situation and I can only see it ending badly."
Strong finishers: Wigan took 15 points from their last six games in 2011-12, only Manchester City (18) took more.
Queens Park Rangers
19th

Played

Won

Drawn

Lost

Points

GD

33

4

12

17

24

-25
Last six games: L D L L W W (7pts/18pts)
Neil Warnock says:
"As much as I would like it to happen, I just don't see my old club climbing out of the bottom three.
"To do so they would have to win at least four of the last five games. That's a huge ask for a team that has only managed four wins all season.
"No club can afford to get relegated from the Premier League, especially QPR after the money they have spent in the transfer market.
"Hopefully they can bounce back next season."
History men? Only one team in Premier League history has ever survived after having 24 points (or fewer) from 33 games, as QPR (and Reading) have now: Fulham in 2007-08.
Reading
20th

Played

Won

Drawn

Lost

Points

GD

33

5

9

19

24

-27
Last six games: D L L L L L (1pt/18pts)
Neil Warnock says:
"I know Nigel Adkins is saying all the right things, but deep down he'll already be planning for next season in the Championship.
"They got a decent point against Liverpool last weekend which stopped the rot, but it is all about next season now.
"I don't see Russian striker Pavel Pogrebnyak wanting to stick around in the Championship.
"But if they can keep the majority of the squad intact then they'll have a good chance of coming back up."
Poor form: Reading are on the longest current winless streak in the Premier League (eight games).