Millwall-Wigan FA Cup semi: Ugly scenes overshadow Latics' day

By Phil McNulty
Chief football writer
Last updated on .From the section Football534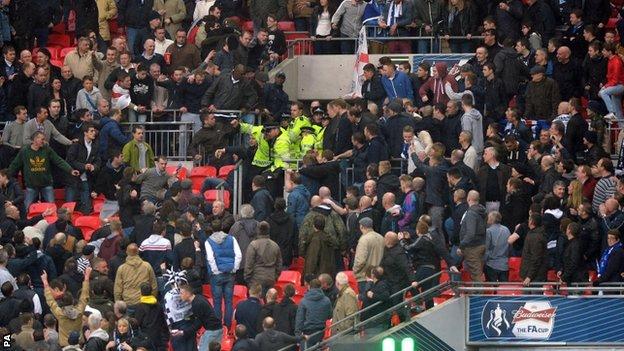 At Wembley Stadium
While Roberto Martinez spoke romantically about the potential for Wigan Athletic chairman Dave Whelan's story to be told on the big screen, more sad scenes in Millwall's turbulent history were being broadcast to a global audience.
This should have been the day for Wigan to claim the spotlight on their own after reaching the FA Cup final for the first time in their 81-year history with a deserved 2-0 win.
Shamefully, they were overshadowed by the serious violence that, after a steamy and increasingly tense second half, broke out between Millwall supporters located to the right of the Royal Box.
As Wigan closed in on their place in history a bout of prolonged fighting between groups of Millwall fans became increasingly vicious, the atmosphere more toxic and the image of their club tarnished once more.
Wembley was a place of contrasts. At one end Wigan's fans celebrated another stage on their incredible journey, while at the other a minority of Millwall supporters attacked each other and then the police as defeat was confirmed.
Once minor scuffles had escalated into serious public order offences in slow-burning fashion, stewards left matters in the hands of the police, who arrived with batons but were then driven back when confronted at a gangway as they tried to restore some measure of control.
It is a rare occurrence to see fans fighting each other in British football stadiums these days - and these were Millwall supporters fighting their own in the worst episode of violence witnessed at the new Wembley.
While it was not quite a return to the darkest days of the past, there were images that could have been plucked straight from that era. One young female supporter was in tears as fighting raged around her, a fan stripped to the waist was left with blood pouring from facial wounds and another smiled as he made off with a police hat as a souvenir - all caught on camera.
It was a small, but highly significant, minority but, in the interests of balance and context, it should be also be reported that large numbers of Millwall fans were quick to noisily denounce the behaviour of their fellow supporters. Sadly for them and Millwall, it came too late to stop the fighting - and too late to prevent more damage to the club's name.
The Football Association, on whose home ground these grim events took place, launched a swift investigation, as will the Metropolitan Police, who have already made 10 arrests.
Those who have followed the workings of Millwall far more closely than this observer talked of the genuine, strenuous efforts made to rid themselves of the troublemakers who attach themselves to the club. Manager Kenny Jackett, who said he had not seen any violence, spoke about the work of the club and the players in their community.
This was a day when all that work was undermined by the fringe group that scarred this semi-final. While Jackett would not commit to specific criticism before he had witnessed the images for himself, other club officials looked crestfallen that what started with the potential to be a great day had turned so sour.
Millwall chief executive Andy Ambler has led much of the endeavours to burnish their image, insisting lifetime bans would follow any punishment from the authorities.
This is not a club or fanbase that asks for, or indeed gets, sympathy - "No-one Likes Us, We Don't Care" as the old song goes - and there is no defence for what was witnessed inside Wembley.
But there must be some understanding for those at Millwall who have tried to root out this problem, only to see their best efforts wrecked by those who were impossible to control.
The FA has made Wembley the base for these showpiece semi-final occasions and what unfolded would have made highly unpleasant viewing.
It was sad that Wigan's magnificent achievement could not get the profile it deserved. And sad that Millwall's many supporters who came and gave their team such passionate support were shamed by the minority.