Adebayor hits back at penalty critics after Basle agony
Last updated on .From the section Football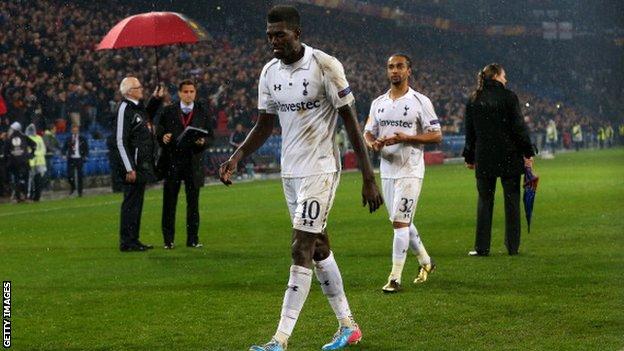 The Togo striker Emmanuel Adebayor has hit back at the critics who lambasted him for his poor penalty which cost Tottenham a place in the Europa League.
The Togolese took a strange, slow, stuttering run up and then cleared Basle keeper Yann Sommer's goal by a foot, before Marco Diaz went on to score to secure an easy 4-1 shootout win for Basle.
Adebayor's miss drew derision from all quarters, with fans and former players criticising the 29-year-old's spot-kick.
Adebayor, who scored four penalties for Spurs last season, has come out in defence of himself, blaming his missed attempt partly on fatigue and the boggy sodden pitch in north-west Switzerland.
"It's tough," the Tottenham striker said.
"You run around for 120 minutes, you give everything you have in your stomach, you are tired, you play with 10 men for 30 minutes and at the end of the day you have to take a penalty.
"The pressure is there when you take the ball. It's not the reason why we missed. We had to score, but it's not easy for us.
"I have taken penalties for Arsenal and Real Madrid. It's a gamble. You miss or you score. I missed against Basle. I am very disappointed, but that's football. You just have to keep focused and keep going."
Tottenham's squad is currently on a break before reconvening ahead of the vital Premier League clash against Manchester City a week on Sunday.
With six season-defining games to come, Adebayor knows he and his team-mates must quickly forget about their Europa League disappointment.
"I'm very disappointed," he said.
"Now we've got time off. We'll go home, see our families and forget about what happened and think about the next game."