Hull City 0-0 Bristol City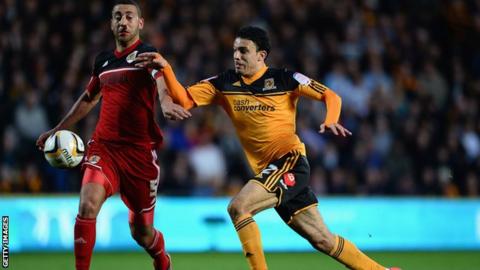 Hull City inched closer to promotion to the Premier League with a goalless draw against already-relegated Bristol City.
The hosts went into the game knowing a win would see them promoted on Saturday if Watford failed to beat Blackburn.
But Hull's best chance did not come until stoppage time when David Meyler's driven effort was saved by Tom Heaton.
Albert Adomah's well-struck effort early in the second half was Bristol City's best chance but a goalless draw was a fair reflection on the game.
Despite the disappointing result, Hull can still be promoted on Saturday, but will be reliant on Blackburn winning at Watford and Crystal Palace failing to beat Leicester City. Regardless of what happens elsewhere, promoted Cardiff will be crowned champions with a point against Burnley.
Home fans were in buoyant mood as they made their way to the KC Stadium on a sunny Friday evening, knowing their side were within touching distance of making a return to the Premier League after being relegated in 2010.
Hull were also boosted by a first league start of the season for Matty Fryatt. The striker, top scorer for the club in the previous two seasons, had only recently returned to action after being out since August with an Achilles tendon injury.
Fryatt made an almost immediate impression when he was picked out inside the area by Stephen Quinn, but the former Walsall trainee spent too long in possession and the Bristol City defence cleared.
Only a smattering of Bristol City fans had made the lengthy trip, with their side playing for little more than pride after Tuesday's defeat by Birmingham City confirmed their relegation to League One.
Those in attendance almost had reason to cheer in the 19th minute when Neil Killkenny's cross to the far post found Steven Davies, but his header was deflected wide.
After that, though, there were few chances of note. Robbie Brady sent well-struck shot from distance into the side netting for Hull before Gedo headed over the bar from Quinn's cross.
The break and a chance for manager Steve Bruce to talk with his players did little to improve Hull's fortunes as they continued to struggle to put together a decent passage of play after the restart.
Instead, Bristol City looked the most likely to fashion a decent chance with the impressive Adomah particularly threatening. The winger drew a good save out of Hull keeper David Stockdale after opening up some space on the edge of the area.
Bruce recognised the need for change and replaced strikers Gedo and Fryatt with Jay Simpson and Nick Proschwitz in the 67th minute.
The change had the desired effect as Hull started to press the visiting defence more but were still found wanting in the final third.
The best chance of the game did not arrive until deep in stoppage time when Meyler found space just inside the area and drove a shot that seemed destined for the back of the net but Heaton produced a fine reaction save to deny Hull victory.
Hull City manager Steve Bruce:
"The dressing room is disappointed. We knew this was an important game for us all but we haven't handled the occasion. We have done handled the occasion before before and that is the disappointment.
"We didn't play as well as we can because of nerves and desperately trying to do too much I think. We played with freedom against Ipswich last week but with expectation on the team we forgot to play our game.
"But that is what the Championship is and you never know this could be the point we need to get over the line.
Bristol City manager Sean O'Driscoll:
"Coming up on a Friday night after you have played Saturday and Tuesday is not the best time to be fair, regardless of the situation we are in. But that is football.
"Hull are a really good, fluid team and play in a way that gives teams problems. We tried to counter that and give them problems and I thought that worked really well.
"To restrict a team you feel is destined for the Premier League to just one shot when you are the team away from home, I think we can take a bit of credit for that."