Matt Bloomfield column: 'Injured players are no use to anyone'

By Matt Bloomfield
Wycombe Wanderers midfielder
Last updated on .From the section Football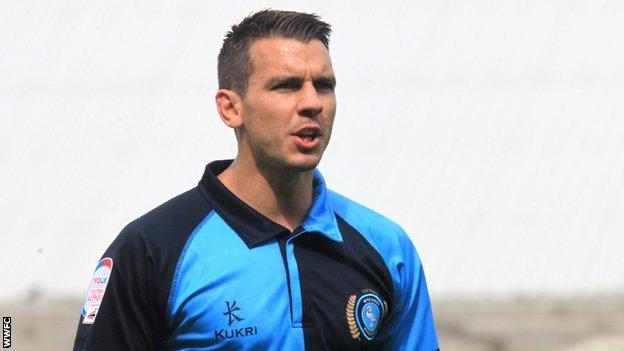 The life of an injured footballer can be a lonely existence. No, make that a very lonely existence.
The longer hours aren't really something that bother me, throughout my career I have always been among the first to arrive and last to leave.
The hard graft in the gym isn't a problem either, I have always tried to be as professional as possible to maintain my body.
It's the mental side of things that provide more of a test. Day after day, watching the lads walk out to train is probably one of the biggest hurdles to overcome. It's something that I have had to get used to this season.
Mondays to Thursdays haven't been too bad, to be honest, I have dealt with the fact that I need to take the time to get my body right to prolong my career.
However, Fridays and Saturdays have been a different matter.
I was not great at missing games in August, when I first picked up my injury, but as the season goes on I just seem to be getting worse during the build-up to games, or on matchdays themselves.
The anticipation, the build-up and getting changed into your match kit, the buzz of leaving your dressing room at 2.55 with your mates alongside you, the highs of winning and the lows of losing. You cannot replicate these feelings.
An injured footballer is no use to anyone and you know what people are thinking, they all doubt you. You have to rely on an inner strength.
The injury that I'm suffering from is basically a groin problem that develops and eventually affects the pubic bone.
At first I thought that I was a one-off and no-one had ever suffered from this injury before. It's only when you start delving a bit deeper and talking to players at other clubs that you discover that it's more common than you first realised.
It's a slow burner and something that takes time to correct. Go for a quick fix and there is a high chance of coming back to haunt you further down the line.
Playing with knocks and niggles is part and parcel of being a professional sportsman and if it's humanly possible to be out on the pitch then I have always taken that option, and will continue to do so.
But it's sometimes the players with the biggest hearts that will do themselves a little more damage in the long term.
I'm now well on the way with my recovery and these last couple of months I have seen a significant improvement in my rehab.
I have big hopes and expectations for when I'm back out on the pitch. I have learned a lot about my body along the way and I can't wait to put that into practice.