Blackburn Rovers: Contradictions, confusion and denial
Last updated on .From the section Football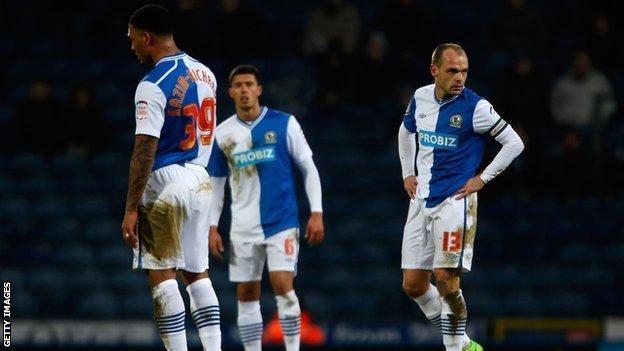 Was Blackburn Rovers' managing director Derek Shaw told to stay away from work earlier this month? Are owners Venky's investigating the amount of compensation owed to former boss Henning Berg? Questions that should be simple for a football club to answer.
But at Ewood Park there is confusion as contradictory club statements and a power struggle behind the scenes leave Rovers fans wondering what exactly is the truth behind the demise of their once proud football club.
On the field, Rovers are facing a battle to avoid a second successive relegation, currently lying in the Championship drop zone, but behind the scenes in-fighting between club officials is further sign of a club in chaos.
"The last two years have not been happy reading," said former Rovers striker Kevin Gallacher. "The people who don't know what is happening think it is bad, but those within the club know it is even worse than some people think behind the scenes."
Investigations
Global adviser Shebby Singh released a statement to BBC Sport on Wednesday saying investigations into matters behind the scenes at the club had "revealed several irregularities". It was left off Rovers' official website.
His claim came a day after a statement had been posted on Rovers' website, without Singh's knowledge, saying there is no investigation into Berg's compensation with regard to managing director Shaw, who continued to have their "complete backing and support".
Berg, who was sacked in late December after just 57 days at the helm, says he is owed approximately £2m and has taken his claim to the High Court.
BBC Sport was told by two senior figures at the club on 4 April that Shaw had received a letter asking him to remain at home pending an investigation into the amount of compensation due to Berg.
Hours later a statement was put on the club's website "quashing rumours regarding Derek Shaw". BBC Sport returned to the officials it had spoken to previously, who admitted the official statement was contradictory and stood by what they had said earlier.
But when asked directly to respond to the question, "had Shaw been sent home pending an investigation?" the club declined to comment.
It has since been said by other club figures, off the record, that the letter was delivered by Singh, who claim it was done without the authority of the owners.
Shaw was in India for meetings with Venky's on Monday and Tuesday, along with operations director Paul Agnew and caretaker manager Gary Bowyer.
Singh was in Pune, in the state of Maharashtra, at the same time but stayed in a different hotel and did not meet with the trio during their talks.
"It seems different people at the club think and say different things," said Rovers' record goalscorer Simon Garner. "You just don't know what is going on half the time.
"You certainly don't get the impression that everyone is working together at the club and that causes confusion around the place."
The power struggle?
Shebby Singh was appointed as Blackburn Rovers' global adviser in June 2012. The former Malaysia international defender had been working as a pundit in Asia on Premier League football for the previous decade.
Upon his arrival, he insisted he had been charged with running the club for the owners, although his appointment was not recognised by the official website.
Singh told the Daily Mail in August: "It will take a long time for some people at the club to accept they have got an in-house pundit as a global adviser who has been sent here to oversee the present and future of the club.
"I've never been too popular and I don't think anything will change. But I will get the job done."
During Rovers' pre-season campaign, Singh was forced to apologise to then manager Steve Kean and midfielder Morten Gamst Pedersen for criticising them at a fans' forum.
At the same time as Singh's arrival, former Preston chairman Derek Shaw was appointed managing director at Ewood Park, while Rovers press officer Paul Agnew was promoted to operations director. Agnew had previously been a chief executive at Preston.
These appointments were mentioned by the club website.
The triumvirate were charged with putting the club back on an even keel after last season's Premier League relegation.
At the time, Agnew told the Lancashire Telegraph: "We are there to help one another - I am a firm believer in a working party environment where we utilise whatever talents we have within our management group to gain the best outcome for the club."
Their conflicting views have been evident throughout and it has reached a point now where Singh watches matches in a different box from Shaw and Agnew. Barely a word has been uttered between the two factions for the past four months.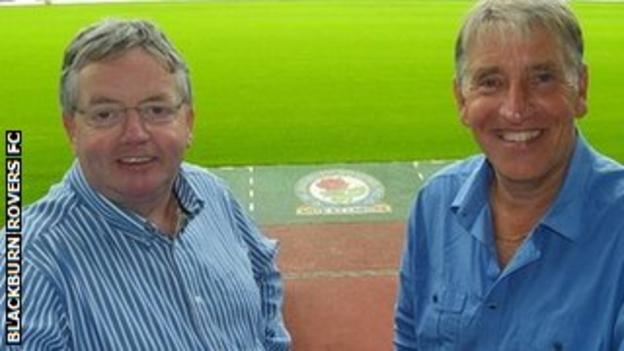 "It looks as though too many people at the top of the club have different views," said former striker Gallacher.
"It is normal for those running the club to have different opinions but normally they knock their heads together and come to an agreement. It doesn't look as though this happens at Blackburn Rovers."
Singh was not involved in Michael Appleton's managerial appointment, while Agnew and Shaw were surprised by the manager's dismissal just 67 days later after four wins from 15 matches.
During his 67 days at Ewood Park, Appleton did not exchange a single word with Singh. In the end he was sacked by a letter delivered by the Malaysian.
"It isn't working, the way the club is set up," said Garner. "Is Singh running the club? Are Shaw and Agnew in charge? You genuinely have no clue.
"The hope was the three would work together to bring a stability to the club. It is pretty clear that hasn't happened. It is like there are two different groups within the club.
"You can't run any business if the top people have different views and say different things."
The impact
Behind the political power struggle lies a football club staring at the abyss after dropping into the Championship relegation zone for the first time this season, following Saturday's 3-2 defeat at Sheffield Wednesday.
Rovers are in 22nd position in the Championship having not won in the league in the last 10 matches, a run that includes six defeats.
It is a far cry from the club under the ownership of Jack Walker in the 1990s. The Blackburn-born steel magnate ploughed millions of pounds into Rovers, who were then an unfashionable club in the old second division.
Walker appointed former Liverpool legend Kenny Dalglish as manager and Rovers forced their way into the Premiership elite through the play-offs in 1992.
After signing a number of high-profile players, including Alan Shearer for a then record fee of £3.5m, Walker saw the club win the Premier League in 1995 - their first title for 81 years.
Rovers remain just the fifth team to have lifted the coveted crown and, even after the death of Walker aged 71 in August 2000, they enjoyed European campaigns and won the Worthington Cup in 2002.
The season before Venky's bought Blackburn Rovers in November 2010, Sam Allardyce had guided them to a top-10 Premier League finish.
Allardyce was sacked with Rovers 13th in the Premier League just a month into Venky's stewardship in December 2010 without explanation, despite the owners stating his position was not in jeopardy when they bought the club.
Now, less than three years on, Rovers are perilously close to dropping into League One, with reserve team boss Gary Bowyer in his second spell in caretaker charge this season and the club's fifth manager of the campaign.
Rovers have signed 21 players since the summer, including spending £8m on Jordan Rhodes from Huddersfield and £3m on Leon Best from Newcastle. The club are paying some of their top earners more than £30,000 a week.
Venky's tenure has been marked by fan unrest. Sections of supporters held protests before and after some home games last season, while attendances have dropped from an average of 25,428 the season before Venky's bought the club in 2009-10 to 14,820 this campaign.
A supporters' trust has been set up with the ultimate aim of bringing the club into fan ownership while businessmen Ian Battersby and Ian Currie, who run corporate finance and capital-raising company Seneca Partners, are still attempting to contact Venky's to discuss a potential sale.
Venky's though are still showing no signs of wanting to sell.
Battersby said: "We have been on a downward spiral for more than two years now and there is no sign of it coming to an end.
"It looks like a gamble was taken in the summer when Shebby Singh was brought in and Venky's financed moves for a lot of players, including giving them long contracts.
"Where is this heading financially? It would be tough enough to continue on these finances in the Championship, I don't dare think about what would happen in League One.
"Even if Venky's did decide to walk away now, the club would be almost unbuyable. I believe it would take about £30m of working capital to turn it around over the next two years.
"The club has been run on a reactionary basis. People within Ewood Park can't agree and those with the final say are based in India and take about two weeks to make a decision."