Carlos Tevez integral to Man City's derby win, says Robbie Savage
Last updated on .From the section Football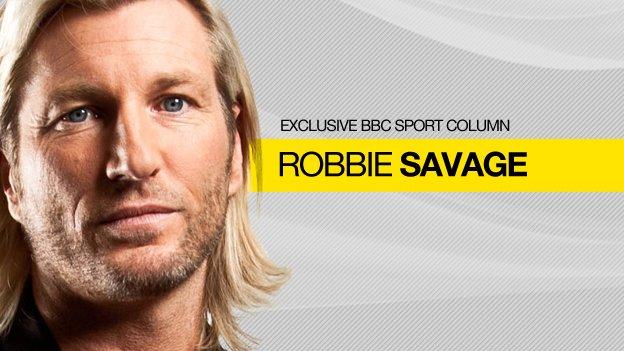 In his regular BBC Sport column on football tactics, Robbie Savage takes a closer look at Manchester City's derby win over neighbours and Premier League leaders Manchester United.
I thought City deserved their win. They had more energy, especially in the midfield areas, saw more of the ball and did more with it, especially in the first half.
What City did really well was press United back and force them into mistakes - United gave the ball away a lot.
City's front-four players played a big part in that, covering a lot of ground and working hard defensively as well as when they had possession.
But the key to everything the champions did in attack at Old Trafford was Carlos Tevez, who was the best player on the pitch and the difference between the two teams.
LONE STRIKER TEVEZ LEADS THE LINE
City's line-up, with only one recognised striker in a 4-2-3-1 formation, did not look that attacking at first, but Tevez helped them take control of the game with his play in United's half.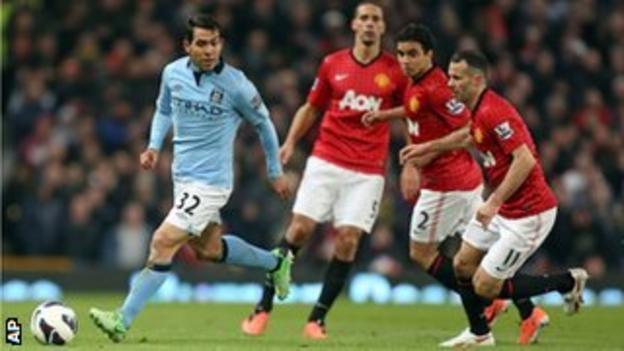 He kept dropping deep to collect the ball and, every time it went into him, he held it up.
His first touch was fantastic and he brought the three players immediately behind him - James Milner, Samir Nasri and David Silva - into the game, and in dangerous positions in the United half too - often in their area.
That trio were industrious and effective, particularly Milner, who seems to be something of an unsung hero for City.
His play down the right when he linked up with Pablo Zabaleta was again superb.
The front-four players of Tevez, Milner, Nasri and Silva took the game to United, and Sergio Aguero continued that when he came on for Nasri and replaced Tevez as City's most advanced forward player, seeing plenty of the ball in and around the United box before he scored City's winner.
UNITED TOO SLOPPY IN POSSESSION
Roberto Mancini got his tactics right but I was surprised by the way Sir Alex Ferguson's side were set up.
For long spells, especially in the first half, United played like they were the away team, which I found very strange.
They relied on the counter-attack for most of the game, but they did not make the most of the situations when they were breaking forward, and their end product was poor.
But what was more worrying for United was the number of times they gave the ball away when they were not trying to catch City out. City's first goal came from a silly mistake by Ryan Giggs, who tried a flick at the wrong time, but he was not the only United player to be sloppy in possession.
Their passing accuracy against City was 75.90%, compared to 85.55% for the season.
What they needed on Monday night was a player who could hold the ball up and bring others into play like Tevez did.
Instead, they had a lone striker in Robin van Persie and Wayne Rooney in the hole behind him.
That only succeeded in condensing the play, which suited City. Yaya Toure and Gareth Barry sat on Rooney while Van Persie was up against Vincent Kompany and Matija Nastasic - and got very little out of them.
UNITED STILL CHAMPIONS IN WAITING
If City had played with the same intensity as they did on Monday in the majority of their league games this season, then the title race would have gone to the wire again.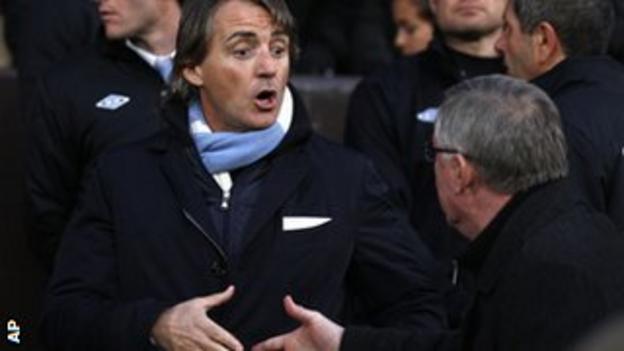 But, over the course of the campaign, they have not scored enough goals and have not been as fluent going forward.
This performance will have shown Mancini that his team are not far away from being title winners again - they have just gone to the outstanding team in the Premier League and won.
But City still need to make improvements, and I am not just talking about signing the players they should have brought in last summer.
Often they have been too narrow in games when they have tried to pass their way through teams down the middle of the pitch.
I would like to see Mancini have a Plan B next season, and maybe sign a couple of wingers to allow him to change games in that way if he needs to.