Man Utd v Man City: A performance worthy of champions

By Phil McNulty
Chief football writer
Last updated on .From the section Football811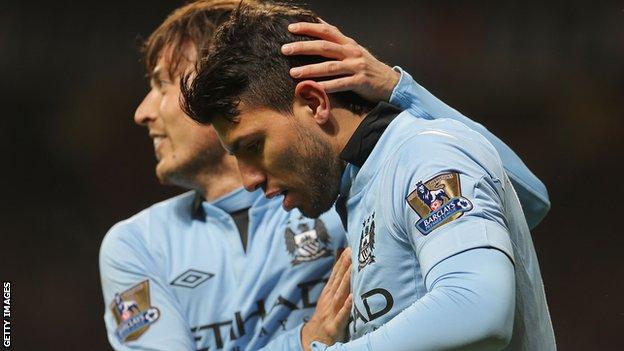 The rambling puzzle that has been Manchester City's unconvincing Premier League title defence offered up even more questions after a performance worthy of champions at Old Trafford.
Flying in the face of the old logic that the table never lies, manager Roberto Mancini has never truly believed Manchester United were, at least at the start of Monday's derby, 15 points better than City.
And, in Old Trafford's normally unforgiving surroundings, City produced the hard evidence to support Mancini's theory with an impressive display of power that will cause intense frustration once the afterglow of celebration has disappeared.
In inflicting United's first league defeat in 18 games since they lost at Norwich City in November, Mancini's reigning champions looked the fitter, more powerful and more threatening side. If there was a gap between the two teams, it was loaded in City's favour at Old Trafford.
One team looked like champions at Old Trafford. And it was the champions.
And yet, taken over the course of the entire season, Sir Alex Ferguson's United will fully deserve their 20th title. They may have been second best to City on Monday but they have been the best side in England since August - and nothing Mancini believes can change that.
When Ferguson reclaims the trophy and gives his traditional winners' speech on the Old Trafford pitch, the usual rule will apply. The finest team has finished on top.
Sergio Aguero's coolness under pressure and natural brilliance won City their first title in 44 years last May. More of the same merely delayed the inevitable with his late winner to give City a fully merited 2-1 win.
The "what might have beens" formed an orderly queue in front of City and their supporters as Vincent Kompany and the outstanding Matija Nastasic emphasised the current trough in form being suffered by Robin Van Persie and Wayne Rooney, while Gareth Barry and Yaya Toure controlled the midfield against Ryan Giggs and Michael Carrick.
Aguero's winner was the sort of goal prime time Rooney would specialise in, the angled run at pace away from a trail of defenders into the penalty area before the finish that was simply too powerful for United keeper David de Gea.
No derby win counts as a hollow victory, but even Ferguson could not appear to work himself into any sort of anger, at least not publicly, about City's second successive Old Trafford win.
The pain for City will come with the acceptance that this sort of display has been an exception rather than the rule this season. They have been overcome by United's consistency - and Ferguson's determination to beat them into making Van Persie his game-changing signing last summer.
There have been too many lame afternoons like those at Southampton and Everton for City. Too many times when the fire has been snuffed out such as in the draw at Queen's Park Rangers.
Mancini's excuses have mounted up recently and sounded a little too much like straw clutching. While he appeared to apportion blame to other teams' passivity to Manchester United, he needed to look closer to home.
And of course if he remains at City next season his well-aired bugbear about the quality of last summer's transfer business will no doubt be used to demand an upgrade this time around.
Maybe City have found the pressures of winning back-to-back titles too much. Maybe they felt they had climbed the mountain last season and could not gather their energies to perform the feat again. The aspirations of those running all aspects of the club's business will expect to them get used to, indeed flourish under, the weight of such demands.
Mancini will undoubtedly waste no time in demanding reinforcements - although his complaint about injuries and "we are not so strong that we can lose three or four players" may be met with stifled laughter among his Premier League counterparts and perhaps the odd raised eyebrow in the financially supportive Etihad boardroom.
This victory and this performance, however, was a graphic illustration of what a force City can be when they get it right and of the riches Mancini still possesses in his squad.
Goalkeeper Joe Hart had a relatively quiet night as a combative City exerted control until Argentine Aguero came off the bench to provide the pace and individuality to make the decisive contribution.
It was a win that showed City's squad, if kept intact, has solid foundations in personalities such as Kompany, Yaya Toure and Aguero.
City made the mistake of adding quantity as opposed to quality to their squad last summer - although Nastasic looks a magnificent defender in the making. It is unlikely they will repeat it when this season ends.
Excellent though this was from City, the brutal truth paints a picture of too little too late. It offers City some pride and allows that to remind United of their threat even as they prepare to take their title off them.
Ferguson will turn his attention to the bigger prize of that title, although he allowed himself some time for reflection in his match notes for Monday's game.
He wrote: "How do we analyse this season - is it one of regret or celebration? For me it's something of the proverbial curate's egg, part bad but with some great redeeming features."
This was the bad but another title to add to United's record-breaking collection is some redeeming feature.
For City, it was a bitter-sweet night when showed what they are capable of - and reminded us they have not been capable of producing it often enough this season.