Martin Allen backs Gillingham to shine in League One
Last updated on .From the section Football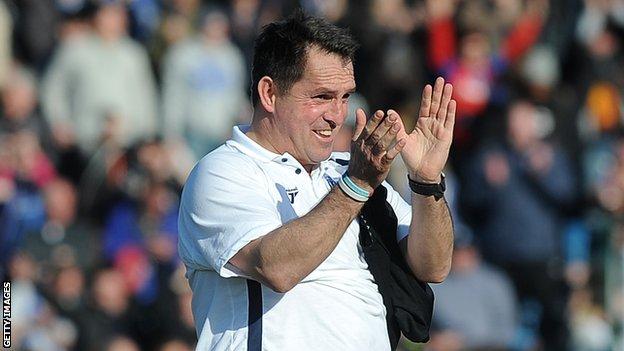 Gillingham boss Martin Allen insists the majority of his squad will be able to make the step up to League One.
Allen told BBC Radio Kent: "I don't think it's a massive gulf. We'll bring in some players, but we're a team. It's teams which do well, not individuals.
"We have got a lot of good players here and they can rise and go again. We don't need massive surgery."
He added: "The players are very self-motivated and driven to improve."
Gills chairman Paul Scally also believes Allen's players will be able to hold their own at a higher level.
"We will always be changing and bringing more players in because that is the nature of the business," Scally told BBC Radio Kent.
"When Martin has been bringing in players like Leon Legge, he has had one eye on League One for half of the season.
"I have got no doubt the players we have got should have the opportunity and will be capable of sustaining League One football."
Allen was appointed Gillingham boss last summer after Andy Hessenthaler became director of football, a move Scally said was down to Hessenthaler's failure to deliver promotion.
"We were probably a bit complacent as a club and needed someone very different to come in and bring his own ideas and his own backroom staff in," said Scally.
"Martin came in and really rattled the cage. The players this season are a lot fitter.
"I've got no doubt Martin wants to do more with the club."
Scally has now set his sights on clinching the League Two title, which would be Gillingham's first league trophy since they won the old Division Four in 1963-64.
"Our final task is to try and get that championship," he said.
"The players have been top of the table for all bar two weeks.
"That has brought a lot of pressure on the players and I think they deserve to win it given what they have done all season."