FA Cup: Former Wigan defender Arjan de Zeeuw turns detective
By Neil Johnston
BBC Sport
Last updated on .From the section Football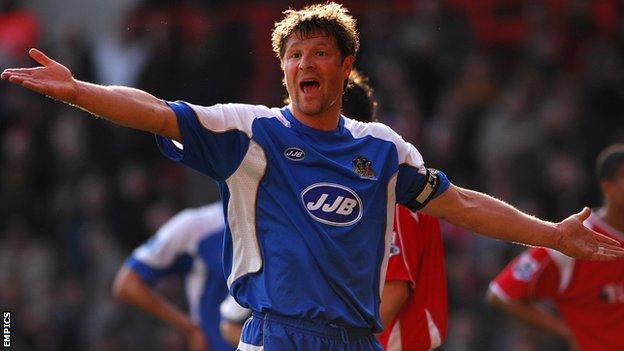 Arjan de Zeeuw played in Wigan Athletic's last appearance at Wembley Stadium, the 2000 Division Two play-off final.
On Saturday, when his former club return to the venue seeking to reach a first ever FA Cup final, the former Dutch defender will be investigating cases involving human trafficking and drugs.
De Zeeuw has turned detective and forged a new career for himself in his native Netherlands.
These days the 42-year-old gets his kicks tackling Alkmaar's crime figures, his new job giving him as much satisfaction as leading the Latics to wins over teams such as Manchester City and Arsenal.
It is a far cry from 13 years ago when, aged 30, De Zeeuw played for Wigan against Gillingham in the 2000 Division Two play-off final in one of the last competitive club games played at the old Wembley. Wigan lost 3-2.
Six years later, in his second spell after re-signing from Portsmouth, the former Barnsley player captained Wigan before a 67,000 crowd in Cardiff in the Carling Cup final, marking Wayne Rooney. Paul Jewell's side were hammered 4-0 by a United team that also included Cristiano Ronaldo and Ryan Giggs.
"It was never my intention to put my feet up after playing - I like to use my brain a little bit," De Zeeuw told BBC Sport.
"I thought about a career in medicine but when I discovered it would take eight years before I could practise, I turned my attention elsewhere.
"I'm what is known as a detective in training. I'm involved in cases now and I should be fully qualified by the end of the summer. Eventually I want to specialise in forensics.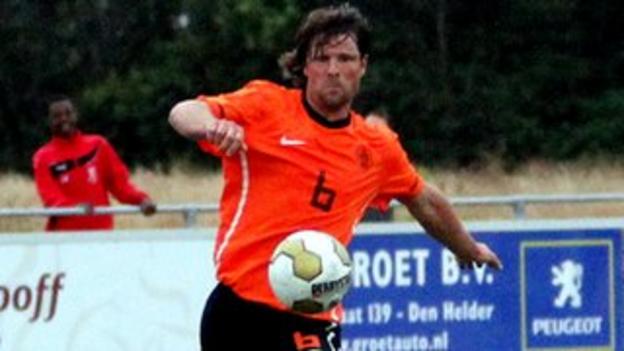 "You've probably got an idea of me being some kind of Inspector Van der Valk character, but this kind of work really appeals to me."
De Zeeuw might have been in the Wembley dugout this Saturday alongside Martinez, his former team-mate from his first spell at Wigan, for the FA Cup semi-final against Millwall had things turned out differently.
He was offered a job on Martinez's coaching staff at Swansea when the Spaniard was appointed manager of the Welsh club in February 2007.
"I decided to join Coventry City instead," added De Zeeuw, who lasted one season with the Sky Blues before retiring at the age of 38 and returning to the Netherlands.
How does being a detective compare to being a footballer?
"It doesn't. Nothing comes close to playing football for a living," said De Zeeuw.
"I work 36 hours a week now and it's exciting. I'm discovering lots of new interests.
"But playing football is the best job in the world. The excitement, fans, matches, dressing room, training and constant new targets."
Now captain of the Netherlands national police team, De Zeeuw says Wigan Athletic are never far away from his thoughts.
He made more than 200 appearances for them and missed just seven games in Wigan's first Premier League season in 2005-06 when they finished 10th, above the likes of Everton and Manchester City.
His affection for the Latics runs deep and De Zeeuw will never forget a remarkable gesture from club owner Dave Whelan 13 years ago.
"When my dad, Cees, was terminally ill with long-term cancer and Wigan reached the play-off final against Gillingham at the old Wembley, he flew him from Holland to London in his private jet so he could see me play," De Zeeuw added.
"I knew it was probably the last time he would ever see me play."
De Zeeuw now has his fingers crossed that 76-year-old Whelan - or "Mr Wigan" as he calls him - gets to see his beloved club compete in their first FA Cup final on 11 May, but only after Martinez has secured the club's Premier League future.
The Latics might be just 90 minutes away from the final, but their eight-season stay in the top flight is in danger. They head to Wembley third from bottom in the Premier League table.
"The last thing Roberto will want is to go down to the Championship," De Zeeuw said.
"The fans would love to see Wigan win a major trophy but if it's a choice of winning the FA Cup or staying in the Premier League, I'm sure the players will want the latter.
"I played for Coventry and Portsmouth. They were both in the top flight recently, but look at what has happened to them since they were relegated. Wigan will be desperate to stay up."
As for Martinez, De Zeeuw never doubted his former team-mate had the qualities to succeed in the cut-throat world of management.
"When we played together in my first spell I used to tell him to change the subject because he used to talk about football all day long," he added.
"He had strong ideas, even then. It was obvious he would become a manager.
"My only surprise is that he stayed in England because I thought he'd go back to Spain."