Fan in South Africa tries to hit referee with vuvuzela
Last updated on .From the section Football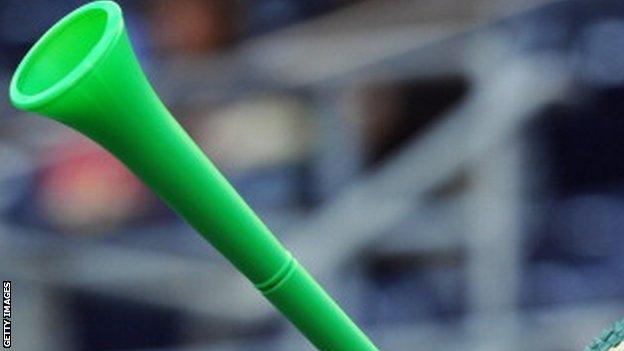 A supporter attempted to strike a referee with a large vuvuzela at a key South African premier league match on Saturday.
The fan evaded security and ran at least 100 metres from the side of the pitch at the Moses Mabhida Stadium, one of the venues for the 2010 World Cup, swinging the plastic trumpet at referee Lwandile Mfiki but missing him.
A second fan of Kaizer Chiefs, the country's most popular club, was intercepted after also hurdling on to the pitch from the stands.
The incident came after the referee had sent off Chiefs midfielder Reneilwe Letsholonyane for a dangerous tackle in the first half of a vital match as Kaizer Chiefs bid for a first league title in eight years.
It sparked protests from the players and a heated exchange of words between the two benches.
Both fans were arrested and league officials told Reuters after the game that they will be charged with assault. The referee, who gave a post-match statement to police, was not injured.
Ten-man Chiefs, coached by former Finland manager Stuart Baxter, drew 0-0 against Golden Arrows to maintain their lead at the top of the table.
Vuvuzelas earned worldwide notoriety for the noisy backdrop they provided at the World Cup in South Africa.
While they continue to be popular with the country's football fans, they have been banned from some stadiums elsewhere in the world.
On Wednesday at the Moses Mabhida Stadium, vuvuzuelas were among an assortment of objects thrown at Orlando Pirates coach Roger de Sa by angry fans after his side could only draw and missed out on the chance to close the gap with the Chiefs.
Defending champions Pirates are eight points behind their rivals but have two games in hand with five weeks of the campaign left.