Adam Johnson says Paolo Di Canio has lifted Sunderland
Last updated on .From the section Football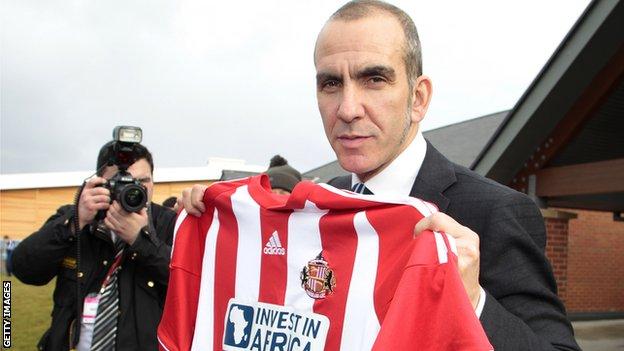 Sunderland winger Adam Johnson says Paolo Di Canio is already making a big impact by making his new players feel like they are the best in the world.
The Black Cats are a point above the relegation zone and face Chelsea on Sunday in Di Canio's first match since replacing Martin O'Neill as boss.
But Johnson believes the Italian will get the best out of his players after installing fresh belief in the squad.
"If you do well for him, he's going to be a great boss to play for," he said.
Sunderland are without a win in their last eight league outings.
Their run-in also includes a Tyne-Wear derby at Newcastle on 14 April and games with top-four hopefuls Everton on 20 April and Tottenham on 19 May.
Di Canio has no experience of managing in the Premier League.
But Johnson says the team heads for Chelsea with new-found confidence thanks to the 44-year-old former Swindon Town boss, who was appointed on 31 March.
Johnson has struggled for form since his £10m move from Manchester City last August, but he added: "It's been a lot different.
"He's a confident manager and wants to make his players feel like they're the best players in the world.
"I think he's going to get the best out of the lads. He demands your best and we will have to work hard.
"Everyone is still getting used to it but it's so far, so good. It's probably what we need. Everyone is excited and can't wait to play.
"When players are full of confidence they're going to play well, so hopefully we can take that into Sunday because it's a tough game and a big game.
"It's a lot to take in all at once but come Sunday I think we will know what he wants from us."