Martin O'Neill: I've still got the same drive and determination
Last updated on .From the section Football156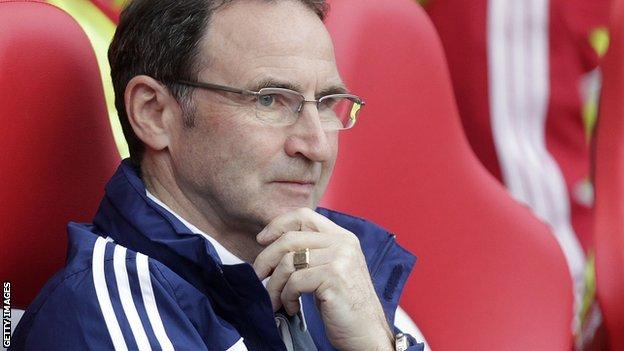 Former Sunderland boss Martin O'Neill says he has no intention of leaving club management following his sacking by the Black Cats.
O'Neill insists that he has the same "drive and determination" as when he first entered professional management with Wycombe Wanderers in 1990.
And, in his first interview since his sacking on 30 March, the 61-year-old also said that "managerial dinosaurs" such as himself, Manchester United's Sir Alex Ferguson and England boss Roy Hodgson bring valuable experience to the game.
O'Neill on his future
"This is certainly a disappointment to me no doubt but I wouldn't want to leave it in that manner.
"You talk about a shelf-life and maybe that's down to the individual.
"You mention great managers [Brian Clough, Jock Stein] that came to a sticky end for one reason or another - I'm never sure of all the circumstances at the time.
"That shelf-life doesn't apply to me.
"Day-to-day club management is something I've been doing now for 20 years and I'd have to say that I've got the same drive and determination as when I stepped in the door at Wycombe Wanderers."
O'Neill on 'managerial dinosaurs'
"I've heard this word being mentioned. You talk about a dinosaur - the biggest dinosaur in the game happens to be the best manager in the game. He has been for years and he'll go down in history as one of the greats.
"I'm talking about Sir Alex Ferguson - there's no bigger dinosaur. He is 71 years of age and he's gone with the times. I don't accept this.
"Also it's interesting that England turned to Roy Hodgson to become manager with all that vast experience in international football, club football and all over Europe.
"They turned to him because he has got this experience. But not only that, he's been involved in the game for a long time and he's got the know-how.
"Queens Park Rangers turned to Harry Redknapp. Everybody has a shelf-life but it doesn't depend on age."
O'Neill on Paolo Di Canio
"I've got nothing to say about that, that is a part of Sunderland's future now and that's Sunderland's prerogative to do what they want.
"I think he mentioned that he expects to keep Sunderland up in the division and that's fine. That's what he expects and he thinks he'll be able to do it, and that's why he's been brought in.
"I've never met him and it's got nothing to do with me."
O'Neill on Sunderland
"The DNA of Sunderland Football Club is about passion, it has been throughout the years and that's very important to the supporters.
"It carries you a certain distance - of course you have to have the ability to play.
"Overall, some very fine players play at Sunderland Football Club at this moment, but we haven't enough true ability throughout the side to be able to cope with every single thing that is thrown at us.
"I don't think it's a major criticism - it's there for all to see, it's actually a fact. But it's something you have to try and cure and want to rectify as soon as possible.
"That's not always possible given the time."
O'Neill on transfers
"In the summer time when we had to try to change things around, there were a number of players who left the football club so numerically we were down. We signed two players for money at that time.
"You'd have to say that Steven Fletcher has been a big success. He's done exceptionally well and scored the goals for us. And Adam Johnson, just about every football club want to sign him at that stage.
"Adam has had a really frustrating time and he should have done better but he has had a lot to cope with.
"But this idea that the two players on their own were going to change the fortunes of the football club - I think you might have to make more changes than that to do it.
"In January, we signed Danny Graham and Alfred N'Diaye and with those two you would probably have to wait a little while before making assessments on that."