WWE's Wade Barrett: My passion for Preston North End
By Phil Cartwright
BBC North West Sport
Last updated on .From the section Football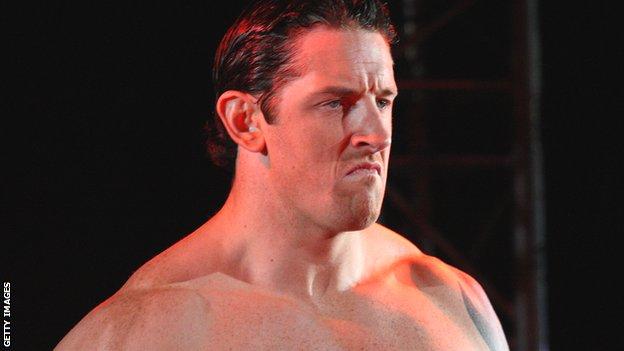 When he is not grappling with the toughest wrestlers in the WWE, Wade Barrett will probably be indulging in one of his other great loves - Preston North End.
Around 90,000 people are expected to be at the MetLife Stadium in New Jersey on Sunday to watch Lancashire-born Barrett defend his Intercontinental Championship against the Miz at Wrestlemania 29.
But before that, the 32-year-old will be keeping tabs on North End in their League One match against Scunthorpe this weekend.
"Preston are looking pretty good right now," he told BBC Radio Humberside. "We've got Simon Grayson in charge and he's really tightened things up, so I think it's going to be three points for PNE."
Although his wrestling commitments have left him unable to watch his team in action for more than five years, Barrett keeps a very close eye on events at Deepdale.
He can often be found tweeting about the club and has lengthy conversations with his father, who still regularly attends games, to find out the latest about the Lilywhites.
"I'm on the club website all the time and I'm checking out goals online," continued Barrett.
"We come on tours over to the UK twice a year, but while I'm there it's non-stop and I don't get the chance to visit friends, let alone go to a football game. Fortunately my dad's a huge fan too and he sends me reports on the matches, so I'm fairly up to speed.
"I keep trying to encourage them to do a US pre-season tour at some point and play some of the Major League Soccer teams, which would be great for me."
The 2012-13 season has been a turbulent one for Preston.
Graham Westley started the campaign in charge and oversaw a huge turnaround of the playing staff. Although it started brightly, a slump in form at the turn of the year saw North End in danger of slipping into a League One relegation battle, and
But Barrett hopes who has won promotion from the third tier with all three of his previous clubs, will see the good times return to Deepdale.
"Since about 1994, we went on this great run from the old Division Four and we really climbed up the leagues," he said.
"We had David Moyes for a while, and then Billy Davies. Year after year we climbed up and we got to the point where we seemed to be in the Championship play-offs every year and then narrowly missing out.
"For the last three or four years it's just been misery, decline and things going downhill. A succession of managers haven't worked out and there have been false dawns over and over again.
"It's been very tough to be a PNE fan, but hopefully with Simon Grayson in charge now, he'll put a stop to all that and turn things around. I seem to be saying that two or three times a year, every time we get a new manager, but hopefully this is the one."