Sven-Goran Eriksson says big names want to join Al Nasr
By John Bennett
BBC World Service Sport
Last updated on .From the section Football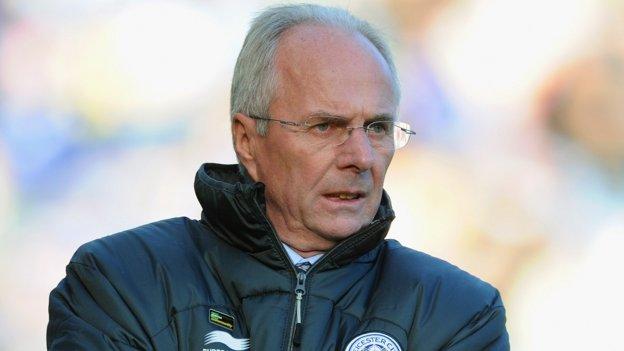 Former England manager Sven-Goran Eriksson has told the BBC that a number of "famous" players have expressed interest in joining him at the Dubai-based Al Nasr.
"I'm quite surprised that a lot of players and player's agents are phoning me - and rather famous players," Eriksson said.
"Many of them are over 30 and a little bit more, but they are big names, so we'll see.
"The money is here, of course it is.
"We're allowed to have four foreigners and that's what we have now, but contracts have finished with some of them so for sure a couple of foreigners might be interesting for us.
"I'm going to try at least."
Chelsea captain John Terry is one of a number of high-profile players who have been linked with a move to the UAE this year.
But Eriksson does not believe he will be able to persuade Terry to sign for Al Nasr.
"If he would like to come, yes I would take him of course, but I don't think he will come. In fact, I would be very surprised if he leaves Chelsea.
"He can still play at the highest level for more years I'm sure. It's too early for him."
Meanwhile, Eriksson has confirmed that he tried to take his former England captain David Beckham to Al Nasr earlier this year.
The 37-year-old eventually signed for the French League leaders Paris St Germain in January.
"There were some talks about it, not really negotiations but of course I spoke with his agent.
"It wasn't impossible but at the same time PSG came in and I understand if you can play half a season at that level, he should take that and he took it."
The UAE Pro League was established in 2007 and is now contested by 14 teams.
Ghana and former Sunderland striker Asamoah Gyan is the most high-profile player in the league, but Eriksson is confident that more famous footballers will follow him to the Middle East in the future.
"It's not only this country, you have the neighbours Qatar, who will host the World Cup in 2022, so they're going to do everything to take not just so-called 'ex-players' but also new, young players.
"It's an interesting place in the world for football."
The Swede, who has managed the likes of Gothenburg, Benfica, Lazio, England, Manchester City, Mexico and the Ivory Coast in his 35-year coaching career, signed an 18-month contract with Al Nasr in January.
But he has not ruled out returning to European football.
"I miss coaching, that was my life for 30 years, but if I'm going to back or not I don't know.
"I'm very lucky because I'm involved in football and I can watch as many games as I want, as many training sessions as I want, so I shouldn't complain.
"My passport says I have a certain age now.
"I don't feel old at all, I still feel hungry and still love football so you never know but we'll see."