JPT Final: Wembley-bound Southend dream of new ground
By Chris Osborne
BBC East Sport
Last updated on .From the section Football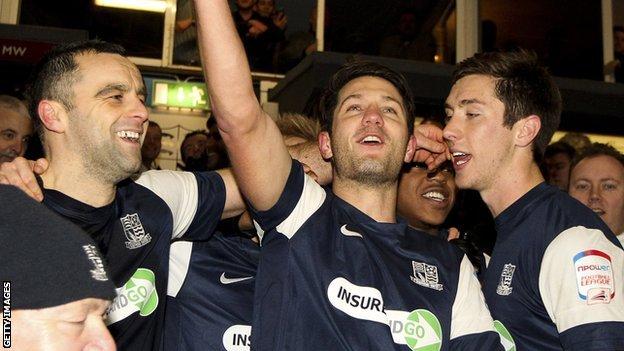 Wembley looms large for Southend United with a Johnstone's Paint Trophy final against Crewe this weekend.
But the Shrimpers' long-term future rests with a stadium that has, for 14 years, been constructed only in the imagination.
A new stadium was first mooted in 1999, following the sale of Roots Hall to chairman Ron Martin's property development company.
The plans, however, did not take shape until 2006 and, as the club the saga to construct the 22,000-seater venue at Fossetts Farm
"There's a nice picture of the new stadium on the way into the training ground, but it's blown down over the last couple of days," assistant manager Graham Coughlan told BBC Sport.
"But it's a nice picture and it keeps the dream alive."
on Sunday, against League One side Crewe, will evoke memories of better times for Southend.
Between 2004 and 2006, the Essex club reached two Football League Trophy finals - both were at the Millennium Stadium and both ended in defeat - and secured back-to-back promotions to spend a season in the Championship.
There was a 1-0 League Cup fourth-round victory over Manchester United in November 2006 too. But these days, Southend are more familiar with the fixtures and fittings of League Two and the difficulties of ongoing financial struggle.
Steve Tilson, a midfielder who made more than 200 appearances for Southend, managed the club through those successes and left in 2010 with the side back in the fourth tier of the Football League, three years after their Championship adventure.
"Things went really well. Whether it was a little bit too quickly too soon, I'm not sure," said the Essex boy, now managing Ryman Premier Division side Canvey Island.
"To start with, the club seemed financially stable. Once we started pushing towards the Championship, wages started being paid late.
"It got difficult, not impossible, but it was tough and that's why we got relegated.
"The players were fantastic but we fell a bit short. But it was during the 2007-08 season that things started getting worse. And then in 2009-10, when we were relegated again, that was the year people weren't getting paid on time.
"The worst thing for me was having to tell the players that the money would go in tomorrow and it wouldn't go in. It was getting awkward.
"Work on the ground was meant to have started and to this day it still hasn't started. What's going on there, I don't know."
Striker Freddy Eastwood spearheaded Tilson's team, scoring 54 goals in 108 league starts between 2004 and 2007.
Two of his most notable strikes were the opener in the 2-0 League Two play-off final win over Lincoln in 2005 and the only goal of the game in that defeat of Manchester United.
"I got a hat-trick in my first game - a 4-2 win over Swansea - and the rest was history. It got better and better every season," the 29-year-old recalled.
"The size of the football club and the things we achieved was unbelievable."
After less-than-prolific spells with Wolves and Coventry, Eastwood returned to Roots Hall at the end of last season and is in the perfect position to determine whether the current squad can replicate their predecessors' achievements.
Last season, Paul Sturrock took them to a League Two play-off semi-final but, with the top seven looking out of reach this time around, he was
And while a victory in the JPT Trophy final could prove the catalyst for a concerted promotion charge next season, there is a consensus that the new stadium, set to be built at the back of the team's training ground, is what the club really need.
"It's key to the club. A club of this size can only move block by block," said Eastwood.
"If we don't get promoted this season, I'm sure we will next season and hopefully the stadium will be built.
"They were talking about the stadium last time I was here. Hopefully I can get a season or two in it before I retire."
Coughlan is in agreement. "Our goal is to bring League One and Championship football to a new stadium," he said.
"When that new stadium arrives is out of our control. All we can do is affect matters on the pitch."
Tilson says it is "just his luck" that he took Southend to three finals, but never managed them at Wembley.
But he is adamant that Fossets Farm is more important to the club's future than any one game.
"The stadium is a huge thing for the club," said Tilson. "If it ever happens, they're going to get bigger crowds and that will improve revenue.
"I don't think Southend have got any given right to be a Championship club. I don't think they're geared up to be a Championship club - the ground's not geared up to be a Championship club.
"To get into the Championship, they definitely need a new stadium, if only to entice better players."
So Southend's long-term future may rest on a non-existent stadium but Eastwood is hoping to give the 30,000 supporters travelling to Wembley a short-term pick-me-up - and perhaps enhance his status even further - by netting another historic goal for the Shrimpers on the grandest stage on Sunday.
"I would say that would cap it off," he said with a smile.
BBC Sport will be taking a closer look at stories from outside the Premier League before every weekend league programme in our Football League Friday features.