SFL launch Dunfermline disciplinary measures
Last updated on .From the section Football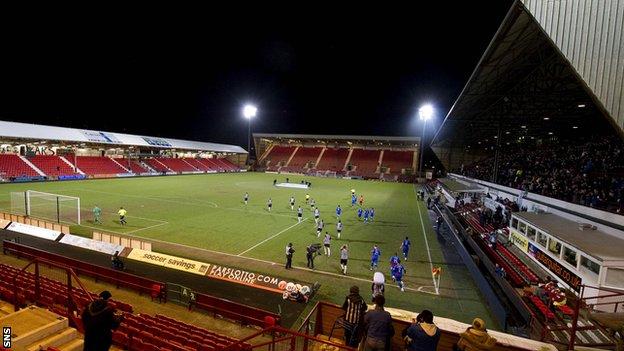 The Scottish Football League will begin disciplinary proceedings against Dunfermline on Thursday.
The Fife club were granted interim administration last week in a bid to stave off a winding-up order launched by HM Revenue and Customs.
Seven first-team players and assistant manager Gerry McCabe were made redundant by accountants PKF.
And by taking steps towards administration the Division One club face a points deduction.
Unlike other governing bodies, the SFL do not have set penalties for insolvency events.
Dunfermline owe £134,000 in taxes and have further debts worth around £8.5m outstanding to majority shareholder Gavin Masterton and other companies.
Administrator Bryan Jackson has pleaded for leniency, claiming a severe punishment could impede his ability to save the club.
And SFL chief executive David Longmuir will meet with the experienced trouble-shooter before initiating disciplinary procedures.
"I was speaking to Bryan Jackson this morning and I will be meeting him tomorrow to discuss the plans that he has and how he sees the future of Dunfermline," explained Longmuir.
"That actually is the most important issue facing the league.
"We need to be able to manage that situation, as we have managed all the other unfortunate insolvency issues we have had.
"I will be meeting Bryan to try and assess the situation before we do anything. I have given him time to try to see what's happening at Dunfermline. I've been in contact with all the key players within the club, I know what's going on and the SFL will deal with that in the next few days.
"That process of deciding penalties will commence after I meet Bryan. It's only fair that I have given him some time to assess the situation before the football authorities come in and do whatever we have got to do.
"But we have a tried-and-tested process on that one and we have always handled it fairly and have always treated each case on its merits. We will do that again."