Neil Alexander fears Rangers exit
Last updated on .From the section Football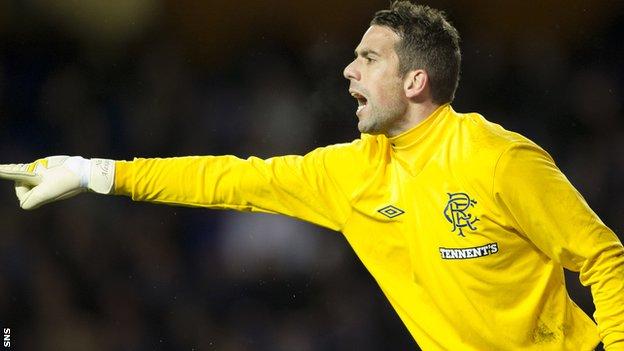 Neil Alexander is reluctantly considering a future away from Rangers, with his contract due to expire soon.
"Negotiations are going slowly," the goalkeeper told BBC Wales.
"They have offered me contracts but with the uncertainty of what division the club is going to be in next season, we are quite a bit away, unfortunately.
"I love being at the club. That's five-and-a-half years and I'm desperate to stay. But it looks like I could be leaving. I'll keep my options open."
The 35-year-old former Cardiff City custodian was one of the few big earners to remain at Ibrox when the club began life in Division Three last summer.
And he kept a clean sheet at Montrose on Saturday as the championship was secured with five matches to spare.
"The same sort of thing happened at Cardiff," added Alexander on the next stage of his career.
"We had agreed a deal in December and that changed in March and if I didn't sign it I wasn't going to play.
"I never played again. I was sort of forced out the door.
"Wherever my journey takes me next, I'll enjoy it and do my very best."
Alexander, who started out at Stenhousemuir and had a year with Ipswich before his move to Ibrox, admitted the transition from the top level to the bottom tier in senior Scottish football had been taxing, despite the ease of Rangers' title success.
"I don't look at myself as a Third Division goalkeeper," he explained. "I'm a Rangers player.
"That's what persuaded me to stay, the chance to be number one at such a massive club.
"The expectations and standards are so high. You can let them drop, although, mentally, this has probably been one of the toughest seasons of my career.
"You've got to get through that and be professional.
"From going to Champions League and Uefa Cup and good stadiums in the SPL with hostile atmospheres, you're suddenly in Elgin and Berwick.
"It so different and mentally it's been tough when you are used to such a high standard. Getting your head round it is the hardest thing.
"There's been a lot of times in games when I don't have much to do and then when you have to make the save, you have to make it.
"Concentration and getting up for games has been hard.
"It's a tough club to play for but the rewards are unbelievable."