Phil Gartside: Kevin Davies 'can have Bolton testimonial tomorrow'
Last updated on .From the section Football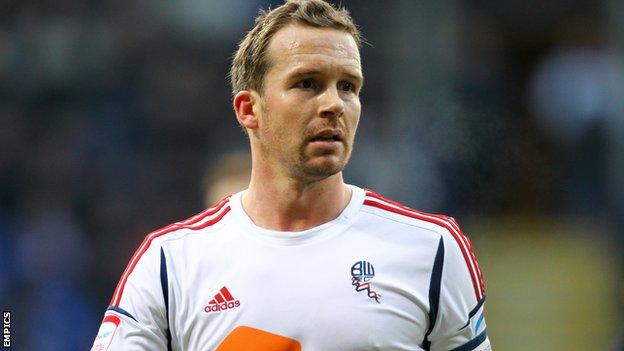 Chairman Phil Gartside has said Bolton will support captain Kevin Davies if he decides he would like a testimonial after 10 years with Wanderers.
Davies, 36, has been told he
Gartside told BBC Radio Manchester that reports last week he had been refused a testimonial were incorrect.
"He could have one tomorrow, provided the football authorities agree to it. We'll try and help achieve that if that's what Kevin wants," he said.
"The player has to have an independent committee. It's been suggested that I should have been the chairman of the committee, but I can't be. The player has to select that, but it has to be independent.
"It can't be part of the club. We can only offer the facilities or assistance. We can't run that committee. We'd love to help.
"Then we've got to go to the football authorities and request that, and it's got to be granted. It's nothing to do with the club. We can't control that."
Davies, who has featured in 38 games for Wanderers so far this season, has played more than 400 times for Bolton since joining in 2003, scoring 84 goals and captaining the side since 2009.
Gartside said the decision to release the one-time England international was purely based on football reasons, and added that he does not believe the relationship between the club and the striker have been damaged by the events of the past week.
He continued: "Kevin's been here the best part of 10 years and he's been exemplary in his conduct with the club.
"It's a long time to have known somebody and we've been close. He's been an important part of the club but these things come to an end at some stage."
Davies was an unused substitute on Tuesday as to move up to eighth in the Championship table, within four points of the play-off places.
Manager Dougie Freedman commented: "We need to keep it going. Of course we'd love to be playing wonderful football and win 5-0 but it's difficult to do that. Huddersfield came to frustrate us.
"Credit to the lads, they stuck at it and got a deserved win I thought."