Paolo Di Canio must live and die by views, says Chris Powell
Last updated on .From the section Football
Chris Powell says former team-mate Paolo Di Canio must "live and die" by his political views.
The Italian's appointment as Sunderland boss has caused controversy because of claims he holds fascist beliefs.
Asked about Di Canio's views, Powell, described as a friend by Di Canio, said: "It is something that he and Sunderland will have to deal with."
When asked how he thought Di Canio would do at Sunderland, Powell said the club had "made a bold decision".
Di Canio was named manager of Sunderland on Sunday following the sacking of Martin O'Neill, with the Black Cats lying 16th in the Premier League table, just one point above the relegation zone,
When Di Canio met the media on Tuesday, he refused to answer questions about whether he held fascist beliefs and described the controversy surrounding his appointment as "ridiculous and pathetic".
The former Swindon boss also urged the media to seek character references from former team-mates Powell and Trevor Sinclair, as well as his agent, Phil Spencer.
Speaking after Charlton's draw with Brighton on Tuesday, Powell said of Di Canio: "Some people may say he is not intelligent if he is saying what he said about his views, but he has to live and die by it.
"Regardless of his personal and political situation, he just has to move on with the job in hand. I am sure that is what he will do."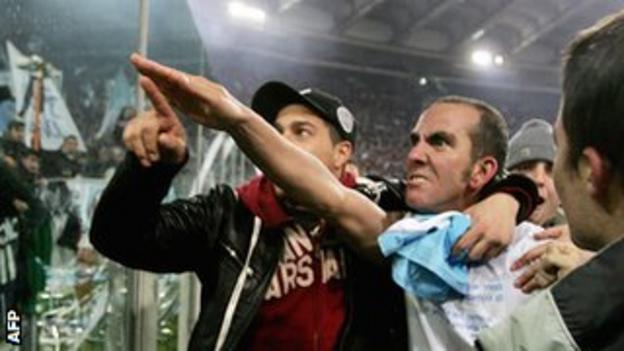 Powell played with Di Canio, 44, at Charlton during the 2003-04 season and helped the south-east London club to seventh in the Premier League, their highest finish in the top flight since the 1950s.
Di Canio, who quit Swindon on 18 February, has talked in the past of his political views.
In his autobiography, he said he was "fascinated" by fascist leader Benito Mussolini.
Following a ban for making a right-armed salute while playing for Lazio in 2005, Italian news agency Ansa reported Di Canio to have said he was "a fascist, not a racist". The player later said he was misquoted.