Wolves: Dean Saunders angry at 'unfair' fixture schedule
Last updated on .From the section Football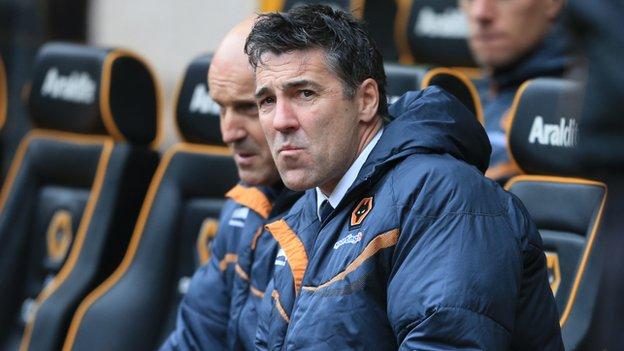 Wolves boss Dean Saunders has claimed the Championship fixture scheduling over the Easter weekend was unfair.
Saunders's side had only a day's rest between their games against Middlesbrough and Birmingham, but still managed to win 3-2 on both occasions.
But Sylvan Ebanks-Blake, who has hit four goals over the past five games, could now miss the rest of the season after being forced off at St Andrews.
Saunders told BBC WM: "It needs looking at because it's definitely not fair."
He continued: "Birmingham were at Palace on Friday but we played Saturday, Monday. It's a good job we were 3-0 up because we were out on our feet in the second half."
Wolves have now won four of their last five matches and the six points picked up over Easter has lifted them from 23rd to 18th in the Championship table.
But Saunders was left frustrated after his side picked up a series of injuries.
"I hoped we'd get to 70 minutes [and be] three goals up and I could make some subs to stop us getting injuries," he continued.
"I couldn't and now Jamie O'Hara and David Davis have pulled their groins because of the fatigue of having to play Saturday, Monday.
"Then there's Sylvan, who's been banging the goals in for us, doing his ankle ligaments and he could be out for the season."
Over the Easter period, 17 Championship clubs had at least two rest days between their games.
Wolves - along with Barnsley, Sheffield Wednesday, Ipswich, Leeds, Cardiff and Nottingham Forest - had one, whilst third-placed Watford had three days between matches.
"In the situation we're in [fighting against relegation], some teams are getting extra rest when they're in the exact same situation," he continued.
"These sides are getting a breather and re-charging their players when we're not able to - it's just not fair."