Ex-Sierra Leone coach Mattsson open to African job offers
Last updated on .From the section Football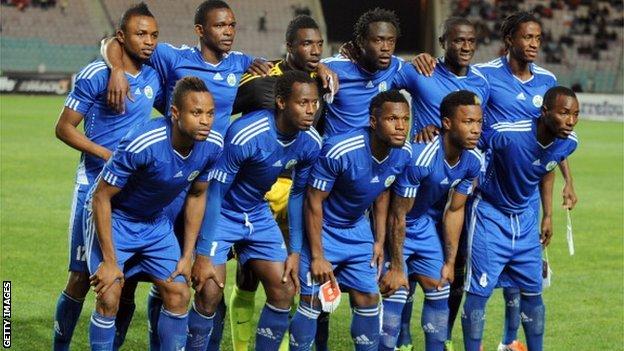 Swedish coach Lars Olof Mattsson has not ruled out taking another job in African football following his resignation from his post with Sierra Leone.
While Mattsson revealed there had been issues with his working arrangement, pay and lack of team preparations, he admitted he was sad to leave the role and would be be open to offers to continue his employment elsewhere in Africa with another national team.
"I would be tempted, definitely, yes. I wouldn't rule it out," he said. "I've got some contacts here and there so I keep my eyes open and every door is open for the future.
"It has been very exciting (in Africa) and so many things have happened in the past two years. I could easily write three or four books about all the adventures."
Mattsson also paid tribute to the Leone Star players but was less enthusiastic about his experiences of working with the Sierra Leone Football Association.
"Kei Kamara from Norwich City called me yesterday, and I spoke to Medo, and many, many of the players on Facebook and they've been very, very sad. But they also say they understand me because these people - among leaders in football and sports in Sierra Leone - they are very, very difficult to work with.
"I don't have any contract with the Sierra Leone FA, I'm just being paid match by match - I also had some problems with getting paid for the matches.
"The circumstances are very hard. I have a family that I have to support back home here and I need a regular job."
It is those issues that Mattsson says would make it very difficult for him to reconsider his decision to quit as Sierra Leone coach - although it is remains unclear whether the Sierra Leone FA has accepted his resignation.
Mattsson added: "It's a very very difficult future with these leaders.. the Football Association isn't working. They have no President in the Football Association - they should've had an election this past autumn, but there's still no election and now they're planning the election for July.
"But I don't know what's going to happen. And also there were plans to restart the league this month because the league hasn't been going on since July last year - so there are a lot of problems and it's going to take many many many years to reach a level.
"I think we have come as far with this national team as you can come under these circumstances."