Paolo Di Canio: Sunderland defend management appointment
Last updated on .From the section Football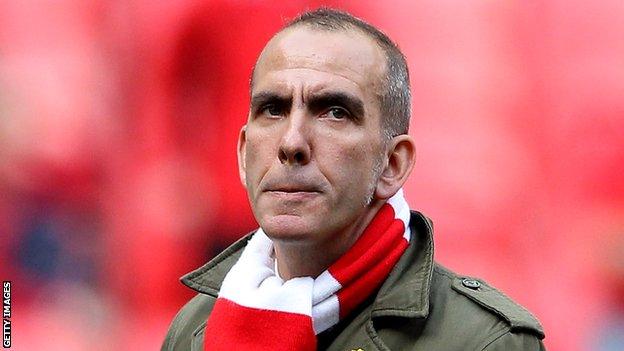 Sunderland say claims Paolo Di Canio has racist or fascist sympathies are insulting to both the "integrity of the club" and their new manager.
The Italian was appointed boss of the Premier League club on Sunday following the
Di Canio, 44, apologised for causing offence with statements of a political nature but said he had been misquoted.
"It's been disappointing to read some of the reaction," said Sunderland chief executive Margaret Byrne.
Ex-foreign secretary David Miliband resigned from the board of Sunderland because of Di Canio's "past political statements", but Byrne said Di Canio's appointment had been turned into a "political circus".
She added: "To accuse him now, as some have done, of being a racist or having fascist sympathies is insulting not only to him but to the integrity of this football club.
"Anyone who has met Paolo and spoken with him personally, as we did in depth before making this appointment, will know that he is an honest man, a man of principle and a driven, determined and passionate individual.
"It is disappointing that some people are trying to turn the appointment of a head coach into a political circus."
In a statement released by the club, Di Canio said he was hurt by his portrayal in the media since
"Of course it hurts because people try to take your dignity and that is not fair," said Di Canio.
"I don't have a problem with anyone. I don't know why I have to keep repeating my story, to be defending myself on something that doesn't belong to me every time I change clubs."
Di Canio has, in the past, reportedly called fascist dictator Benito Mussolini "a very principled ethical individual" who was "deeply misunderstood".
In 2005, he was pictured making a raised-arm salute to a group of supporters of Roman club Lazio, for whom he was a player.
"What I can say is that if someone is hurt, I am sorry," added Di Canio.
"Talk about racism? That is absolutely stupid, stupid and ridiculous.
"I expressed an opinion in an interview many years ago. Some pieces were taken for media convenience. They took my expression in a very, very negative way.
"But it was a long conversation and a long interview. It was not fair."
He added that his best friends when he was a player in England were Trevor Sinclair and Chris Powell, both black players.
"I don't want to talk about politics because it's not my area," he added. "We are not in the Houses of Parliament, we are in a football club. I want to talk about sport. I want to talk about football."
Despite Sunderland's statement and Di Canio's comments, the Durham Miners' Association is unhappy with the appointment and has asked the club to return the Wearmouth Miners' Banner, which is on permanent display in the Stadium of Light.
"I, like many thousands of miners, have supported Sunderland from infancy and are passionate about football," said DMA general secretary Dave Hopper.
"But, there are principles which are much more important."
In 2011, when Di Canio was appointed as Swindon Town's manager, the GMB union withdrew its sponsorship of the club, citing his political views.
Di Canio first came to Britain as a player in 1996, when he joined Celtic, and followed his time in Glasgow with spells at Sheffield Wednesday, West Ham and Charlton.
He retired in 2008 after spells in Italy with Lazio and former Serie C1 side Cisco Roma.
He was handed his first managerial role by Swindon in May 2011, replacing Paul Hart.
Di Canio spent 21 months at the County Ground. After securing promotion and with Swindon in the League One play-off positions, he quit on 18 February after becoming frustrated by off-the-field issues.