Paolo Di Canio a 'great move' for Sunderland, says Jeremy Wray
Last updated on .From the section Football549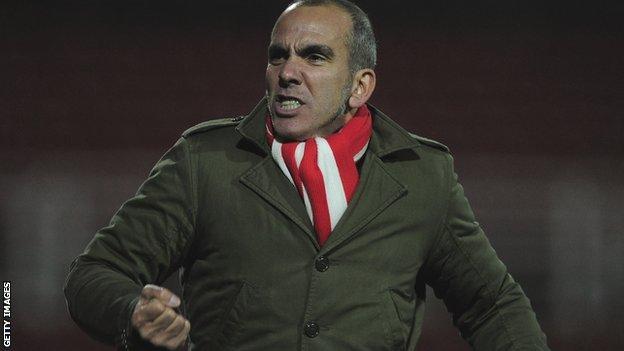 Paolo Di Canio can "galvanise" Sunderland, according to the man who gave him his first managerial job.
The Black Cats handed former Swindon boss Di Canio, 44,
They sacked Martin O'Neill on Saturday after a run of poor results.
"At the end of our games, it was pure box office," said former Swindon chairman Jeremy Wray. "It is a great appointment for him and a fantastic appointment for Sunderland."
Sunderland, who have seven Premier League games remaining this season, are just one point above the relegation zone. They have tough trips to Chelsea and Tottenham, as well as a north-east derby with Newcastle to come.
But Wray believes the Italian can keep the Black Cats in the Premier League.
"He will galvanise the team," Wray told BBC Radio 5 live. "He is full on 24 hours a day and will be focused on the last seven games of the season. If you are looking for a catalyst for change, he is absolutely the right man."
Di Canio first came to Britain as a player in 1996, when he joined Celtic, and followed his time in Glasgow with spells at Sheffield Wednesday, West Ham and Charlton.
He retired in 2008 after spells in Italy with Lazio and former Serie C1 side Cisco Roma.
He was handed his first managerial role by Swindon in May 2011, replacing Paul Hart.
Di Canio spent 21 months at the County Ground. After securing promotion and with Swindon in the League One play-off positions, he quit on 18 February after becoming frustrated by off-the-field issues.
There were plenty of other dramatic moments along the way, including a bust-up with striker Leon Clarke just seven games into his time at the club.
Tempers flared again this season, this time with goalkeeper Wes Foderingham, after Di Canio substituted him 21 minutes into a game against Preston.
It all led to ex-Robins chief executive Nick Watkins claiming Di Canio's tenure was "management by hand grenade".
Despite this being Di Canio's first time managing a top-flight team, Wray does not see it as an issue.
"He will take it in his stride," he said. "He is no stranger to the big stage and hardly suffers from stage fright.
"We had many sceptical people when I appointed him at Swindon, but he convinced me in the same way I'm sure he will convince the chairman of Sunderland."
Former foreign secretary David Miliband resigned from the board of Sunderland over Di Canio's "past political statements".
Di Canio has previously described himself as "a fascist, not a racist", but Wray says politics should not be an issue.
"It is a sad, knee-jerk response," said Wray. "I doubt David Miliband knows Paolo. I knew him for two years, but we never spoke about politics.
"It is not relevant to keeping Sunderland in the Premier League."
However, Football Against Racism in Europe director Piara Powar insists it is important for Di Canio to declare the nature of his political beliefs.
"When there is a rise of intolerance and there is a coach in the most watched league globally, who hasn't clarified or wanted to renounce his fascist views during his time in the UK, it is a worrying time," Powar said.
"We live in a different political climate than 2011 and there has been a lot gone on in football over issues of race and that gives a different focus to a manager who calls himself a fascist being appointed to a top post.
"Fascism is an ideology which at heart is about intolerance and a way of government that has no place in the 21st century.
"There are all these good footballing reasons to employ him, but are footballing reasons enough when someone comes with the baggage he comes with?"