Steven Gerrard deal at Liverpool on boss Brendan Rodgers' agenda
Last updated on .From the section Football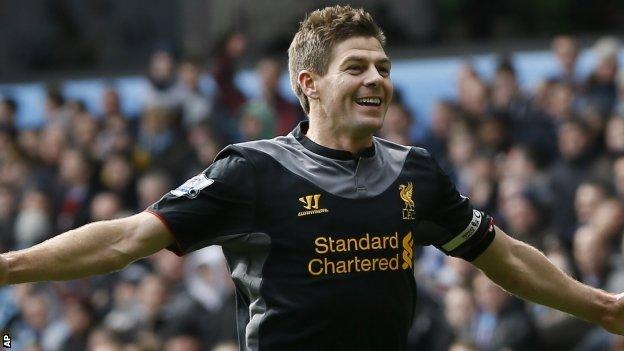 Liverpool manager Brendan Rodgers is keen to open talks with midfielder Steven Gerrard over a new contract.
Gerrard, 32, made his 625th appearance for the Reds in the 2-1 victory at Aston Villa on Sunday, scoring the winning goal from the penalty spot.
His current deal expires at the end of the 2013-14 season.
"A new contract is something on the agenda - it will happen in due course," said Rodgers. "Can Gerrard play on into his late 30s? Absolutely, no question."
Apart from the goal, Gerrard was also a key figure in the lead up to the equaliser at Villa Park and made a vital clearance off the line.
Rodgers revealed afterwards that his skipper had been given a pre-match injection in his heel to enable him to play.
"Steven is a remarkable man. Look at his fitness level, and his running ability. He has been like that the majority of the season.
"He had to get an injection in his heel to play. We had an issue with his heel for a couple of days.
"He had a bit of pain and was struggling to get his boot on. But for him it was a case of whatever it takes to play.
"It was nothing major but many other players might not have played or even trained. That shows the mentality and mindset of the man.
"He is just a real inspirational man, a top top player, whose hunger and desire for Liverpool to succeed is incredible."